Catawba Falls
This is a high, wide series of cascades, best viewed in higher water after the leaves have fallen. Several free-fall sections are combined with rock-hugging cascades giving the falls plenty of variety and character.
Photo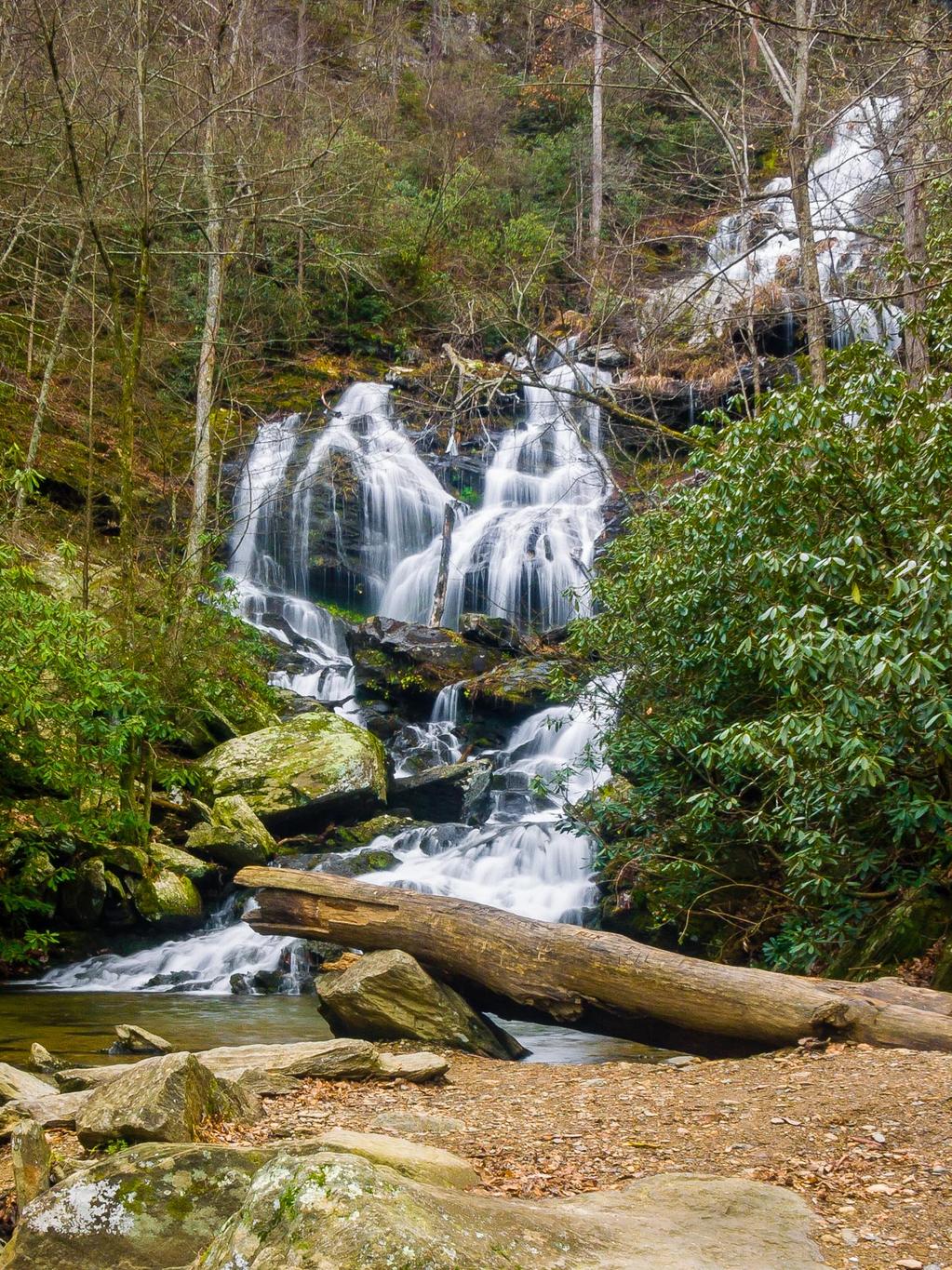 Statistics
Height: Over 100'
Stream: Catawba River
Landowner: Pisgah National Forest
GPS: 35.604338, -82.245034
Hike Information
Difficulty: Moderate
Length: 2.4mi
Tread Condition: Moderately Rough
Climbing: Climbs Moderately (345 ft)
Type: Out-and-back
Map
Click for Full Map
GPS Directions & Map
From Current Location
or from address:

Driving Directions
From Asheville, take I-240 E to I-40 E. Go just under 20 miles on I-40 to exit 73, the second Old Fort exit. Before the ramp ends, turn right onto Catawba River Road. Go 3 miles to the bridge at the end of the road. The new, larger parking area is just across the bridge. (The parking lot is scheduled to re-open after the bridge is re-constructed; park just before the bridge without blocking any driveways if it is still closed).
Trail Description
The hike to the falls is about 2.5 miles round-trip and moderate in difficulty. It starts at the back of the parking lot, to the right of the sign boards. The trail joins and follows an old road bed about 1.2 miles to the falls.
The first part of the trail is level and easy. Then, it crosses the river. There are usually well-positioned rocks you can use to hop across, but if the water is up you might get your feet wet or have to wade. It will be impossible during very high water until a bridge is built.
On the other side the trail starts climbing moderately. The river will start to show some cascades, and you will pass an old hydroelectric dam. Stay off the dam and away from the cliffs in this area. Shortly past the dam, the trail will cross an eroded gully and then Chestnut Branch, which can be rock-hopped.
Just beyond Chestnut Branch, the trail gets a bit more difficult - you'll have to climb up and around on some rocks, and there is another tricky creek crossing. The trail then ends at the base of the lower falls, where there is a somewhat decent area for hanging out and viewing the falls (but be careful - there are some drop-offs and cascades just downstream).
Many people continue on the "trail" that goes up the right side of the falls to Upper Catawba Falls. However, that trek is steep, arduous, slippery - and dangerous. It climbs up next to the falls where one slip would send you over the edge. Until a better path is established, I do not recommend trying to reach the upper falls.