Hunt-Fish Falls
Also known as: Hunt Fish Falls, Huntfish Falls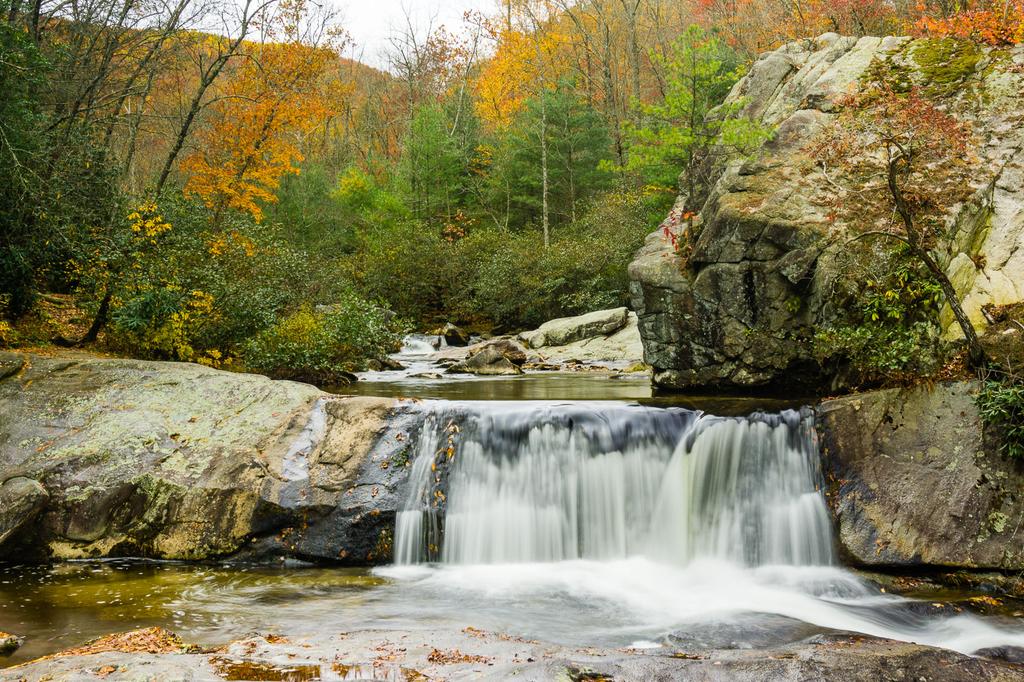 A short drop, wider than it is tall, falls into a shallow pool in the bedrock before turning and sliding down the second half. This slide ends in an enormous plunge pool, which is the real story at Hunt-Fish Falls.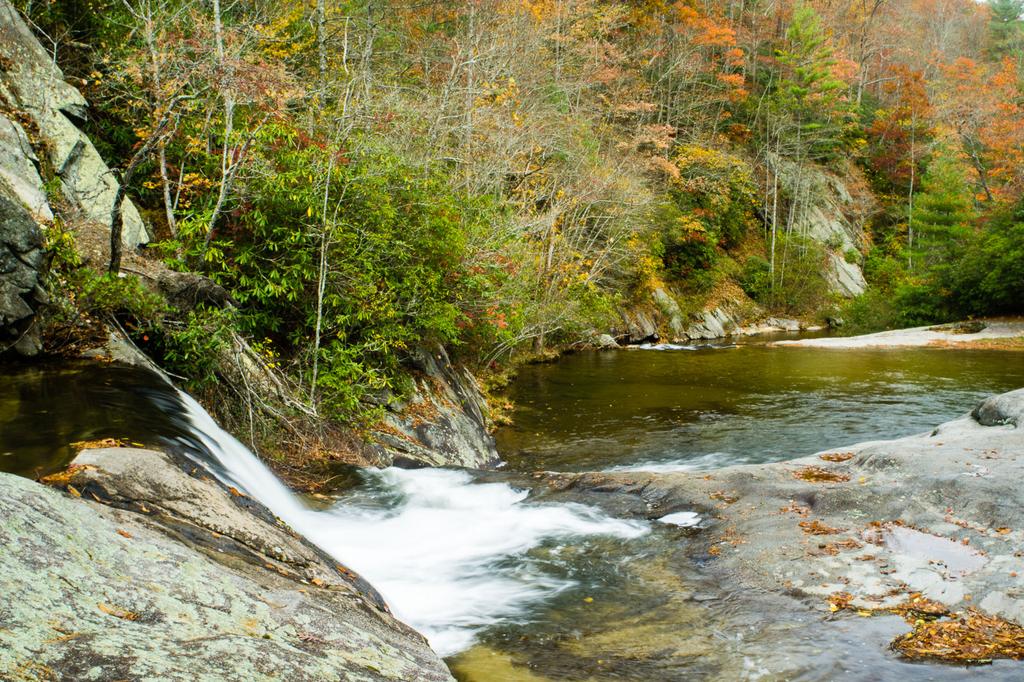 Although the waterfall itself is scenic, this pool is ideal for hanging out and swimming, which it is often used for in the warmer months.
A small tributary forms a much higher waterfall just south of the middle of Hunt-Fish falls, but it hardly has any water in it at all except after flooding rains.
Statistics
Height: 15 ft. total
Elevation: 1800 ft
Stream: Lost Cove Creek
Landowner: Pisgah National Forest, Grandfather Ranger District
GPS: 36.013976, -81.804286
Hike Information
Difficulty: Moderate
Length: 1.6mi
Tread Condition: Moderately Rough
Climbing: Climbs Moderately (600 ft)
Type: Out-and-back
Map
Driving Directions
From the Wilson Creek Visitor Center at 7805 Brown Mountain Beach Rd., go 3.1 miles North to NC. route 90 (one of NC's last unpaved state roads) and turn left. Go 1.8 miles and turn left on FS 464 (Pineola Rd.). Go about 3.1 miles uphill and the trailhead for trail #263 is on the right. Park there.
Trail Description
From the well-marked trailhead, descend on a path co-signed as the Hunt-Fish Falls trail (#263) and the Mountains to Sea Trail, with both blue and white blazes.
The trail descends moderately through a few switchbacks and then follows a tributary branch downstream. It crosses the stream once on a stone bridge. The trail swings away from the branch, then makes another switchback before coming out right at the top of Hunt-Fish falls. The trail continues to the middle and bottom of the falls.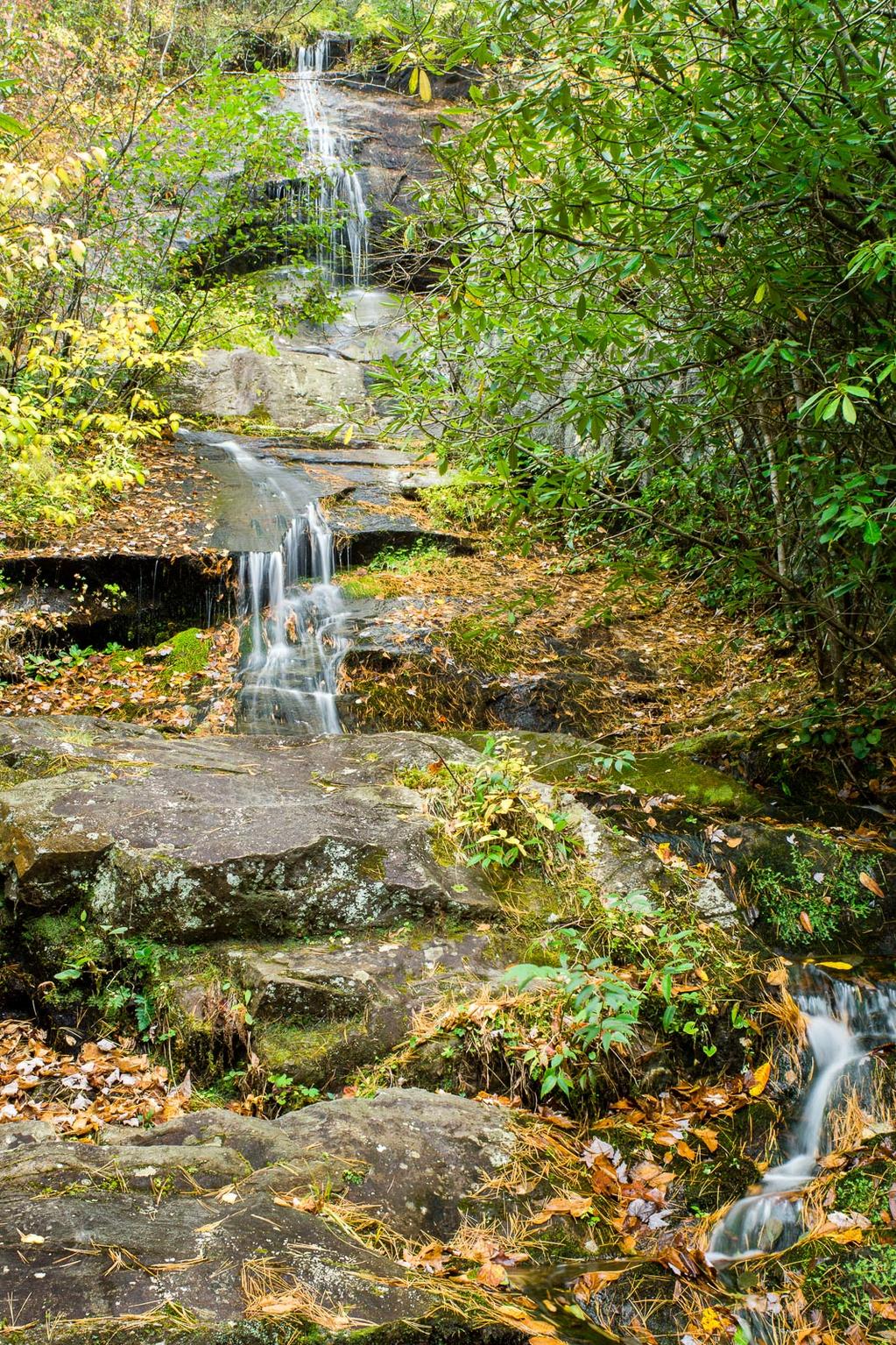 The trail crosses the stream it had been following again just before coming out on the rocks at Hunt-Fish Falls. To the right is Hunt-Fish Sidekick Falls, which flows into the middle of Hunt-Fish Falls below the trail. It's high, but it needs a lot of water to be worth looking at, let alone taking a picture of.
The Mountains to Sea Trail continues past the falls down Lost Cove Creek.