Ranger Falls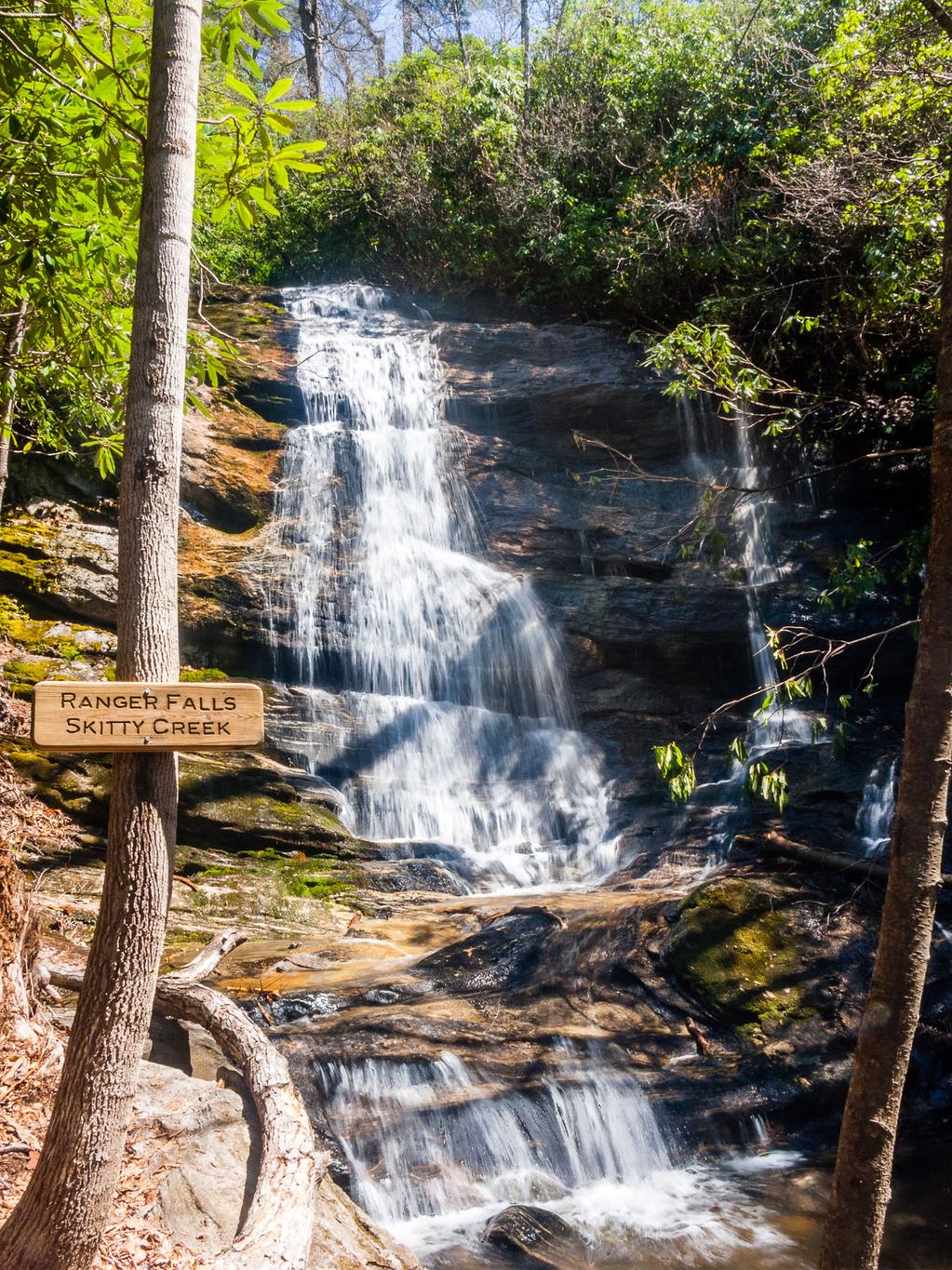 This is an a small, steep, attractive cascade surrounded by laurel and rhododendron. Most of the water falls on the left side (looking up) when the water is low; a small stream also comes down under the bushes on the right. When the water is very high, the cascade spreads out over the entire rock face, making it look very different. Lush green moss grows on the rocks, as the sun shines brightly on the falls by midday.
Statistics
Height: 35 ft
Elevation: 3740 ft
Stream: Skitty Creek
Landowner: Nantahala National Forest
GPS: 35.087828, -83.224435
Hike Information
Difficulty: Moderate
Length: 2.2mi
Tread Condition: Moderately Rough
Climbing: Hilly (520 ft)
Map
GPS Directions & Map
From Current Location or address:
Driving Directions
From Highlands, N.C., drive 4.6 miles west on U.S. Hwy. 64 and turn right into the Cliffside Recreation Area. Drive another 1.4 miles, past the main lake parking area, to the picnic area parking on the left. There is a $4.00/vehicle charge to use this area during the in-season.
Trail Description
From the back of the parking area, follow the signed Ranger Falls trail uphill on a somewhat steep path for 0.3 miles, and turn left onto Ranger Falls Loop. Descend to Ranger Creek and bear right to start following it uphill in a muddy area. The trail crosses the creek on a bridge just below the falls after 0.8 mi.
The Ranger Falls Loop trail continues beyond the falls and winds its way up to the upper junction with the Ranger Falls trial, where you can turn right to return to the parking area and complete the loop. The upper portion of the loop beyond the falls may not be as well traveled or blazed.