Falls on Cedar Rock Creek
Also known as: Cedar Rock Creek Falls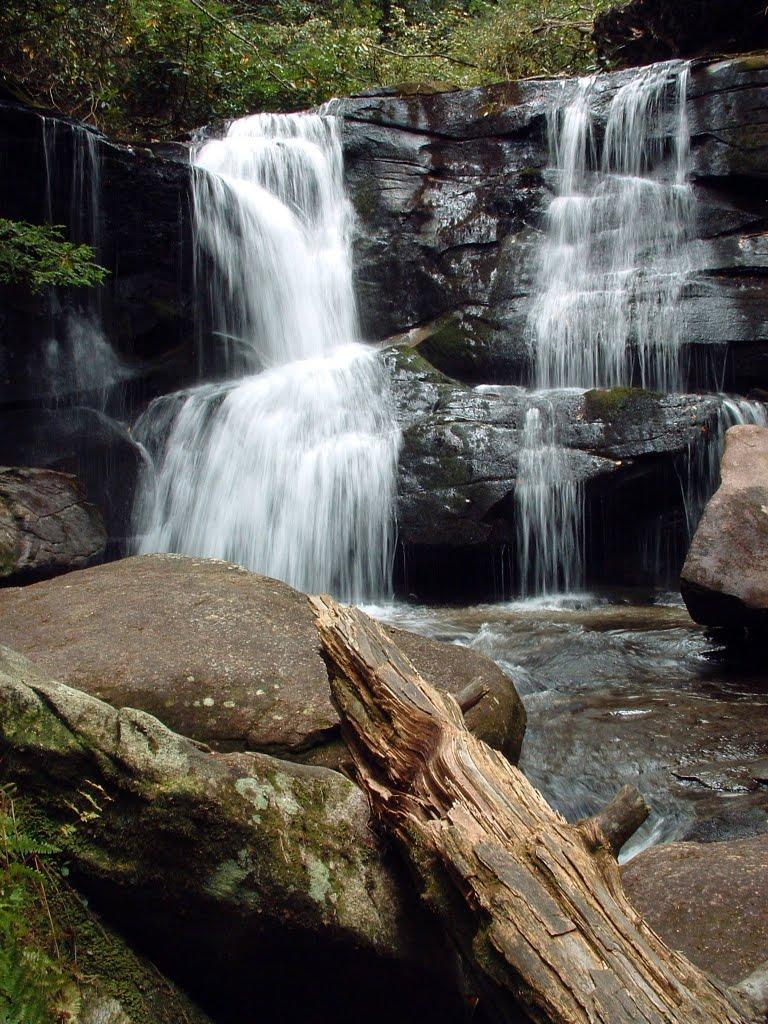 As Cedar Rock Creek flows out of a lazy, flat section in Picklesimer Fields, it drops over this waterfall on its descent to the Fish Hatchery area. The creek splits into two parts before dropping over a small cliff during normal flow, with most going river right. Both drops are steep cascades with free-falling sections.
Though this waterfall is not tall, it's beautiful and the water is exceptionally clear. The rocks and forest around the falls are lush and green and it's in a rugged setting.
Statistics
Height: 25 ft
Elevation: 2680 ft
Stream: Cedar Rock Creek
Landowner: Pisgah National Forest, Pisgah Ranger District
GPS: 35.278049, -82.79961
Hike Information
Difficulty: Moderate
Length: 1.6mi
Tread Condition: Moderately Rough
Climbing: Climbs Moderately (280 ft)
Map
GPS Directions & Map
From Current Location or address:
Driving Directions
From the intersection of US Hwy 276 and 64 and NC Hwy 280 in Brevard, follow US 276 west for 5.2 miles. There are signs for Pisgah National Forest. Turn left onto FS 475, following signs for the Pisgah Center for Wildlife Education. The parking area is 1.4 miles ahead, on the left after crossing a bridge over the Davidson River.
Trail Description
Start following FS 475C from the south side of the parking lot, crossing a bridge over Cedar Rock Creek. Take the orange-blazed Cat Gap Loop trail to the right. In about 0.3 mi., cross a footbridge over Cedar Rock Creek, cross a gravel road, and continue the trail on the other side.
The trail passes above the weir for the fish hatchery, then begins winding along the slopes above the creek. As the trail starts approaching the creek again, you'll start to see the falls through the trees to the left (especially in winter) now that the hemlocks are dead. Continue to a side path down to campsite with a small cascade upstream. The main falls is below this campsite area. A scramble path leads to the base. Keep to the left to avoid the drop-off near the falls, for an easier descent past a small overhanging rock cave.