Mingo Falls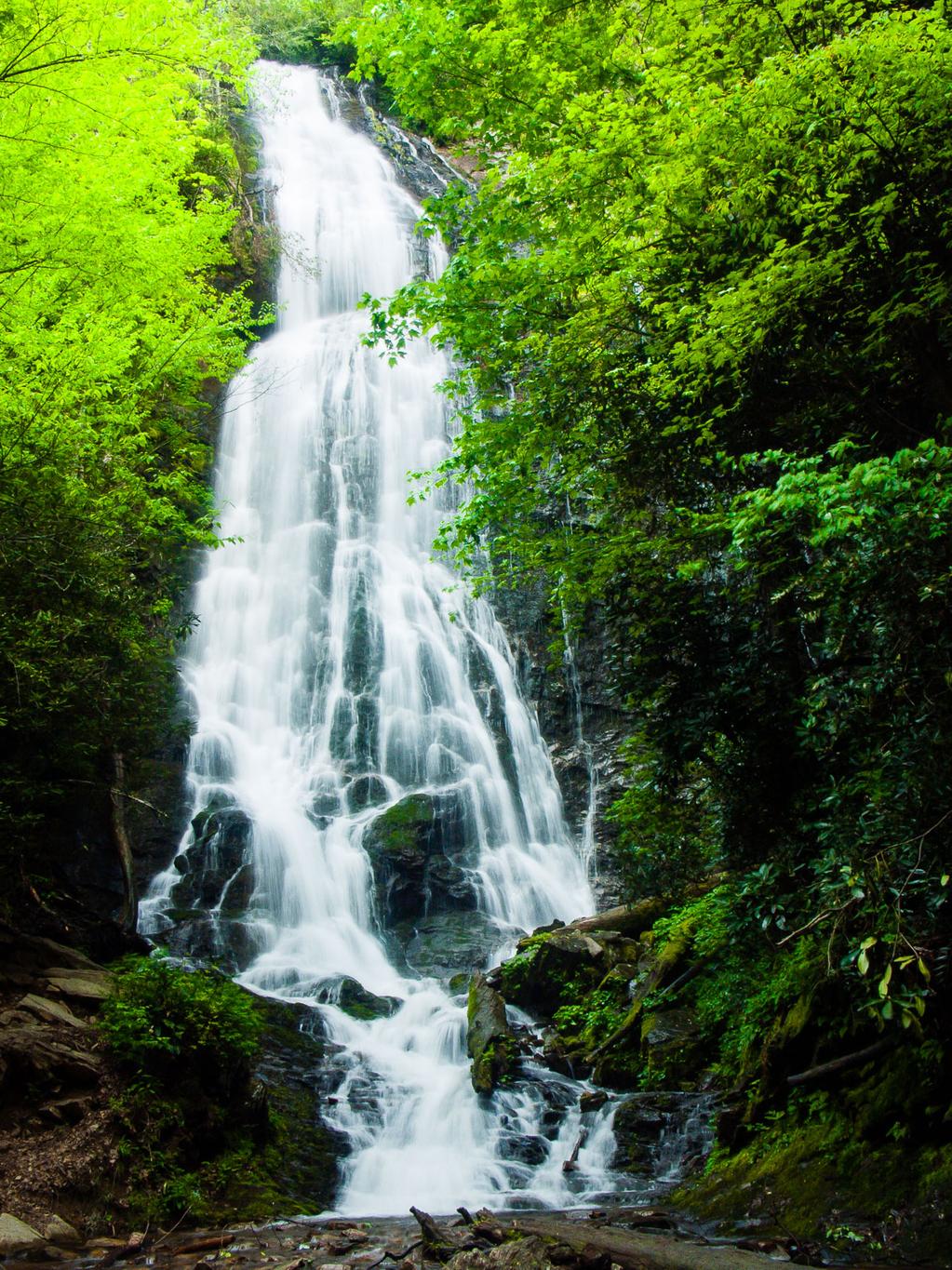 Mingo Falls is one of those that looks so much higher in real life than in nearly any photo you'll be able to make or see. And, especially during moderate water flow, it's nearly picture-perfect. This tumbling cascade leaps into free-fall at several points, getting gradually wider near the bottom as it plunges over multitudes of little ledges, before being funneled back into a smaller cascade and into a tiny pool and rocky area. Steep slopes on both sides mean that to get up close to the falls - closer than you can get from the bridge - you'll need to get wet and be careful.
Statistics
Height: 120 feet
Elevation: 2350 ft
Stream: Mingo Creek
Landowner: Eastern Band of the Cherokee - Qualla Boundary
GPS: 35.53179, -83.275347
Hike Information
Difficulty: Easy
Length: 0.3mi
Tread Condition: Few Obstacles
Climbing: Climbs Moderately (130 ft)
Type: Out-and-back
Map
GPS Directions & Map
From Current Location or address:
Driving Directions
From the intersection of US Hwy. 19 and 441 in Cherokee, NC, go down the hill into town for just over 1/2 mile. At the light, US 441 goes left into the Great Smoky Mountains - but avoid that traffic and madness and keep going straight. Go just over the Oconaluftee River bridge to the next light. Turn left onto Acquoni Rd. (Coming from town or the casino area, it'll be right on Acquoni Rd. just before the bridge). Go 1.7 miles and turn right onto Big Cove Road. Go 5.2 miles and turn right toward Mingo Falls Campground (there are signs for the falls, too). Cross the bridge and park in the public lot straight ahead.
Trail Description
The trail starts at the back of the parking lot and begins going up a very long set of concrete and wood steps. There are hundreds of them, so take your time and enjoy the forest and sounds of the cascading stream on your right. It's short, though, so it's easy overall. At the top of the steps, the path turns back into a wide trail and levels out. It's just a few yards to a bridge over the creek, with a great view of the falls just upstream on the left.