Little Bearwallow Falls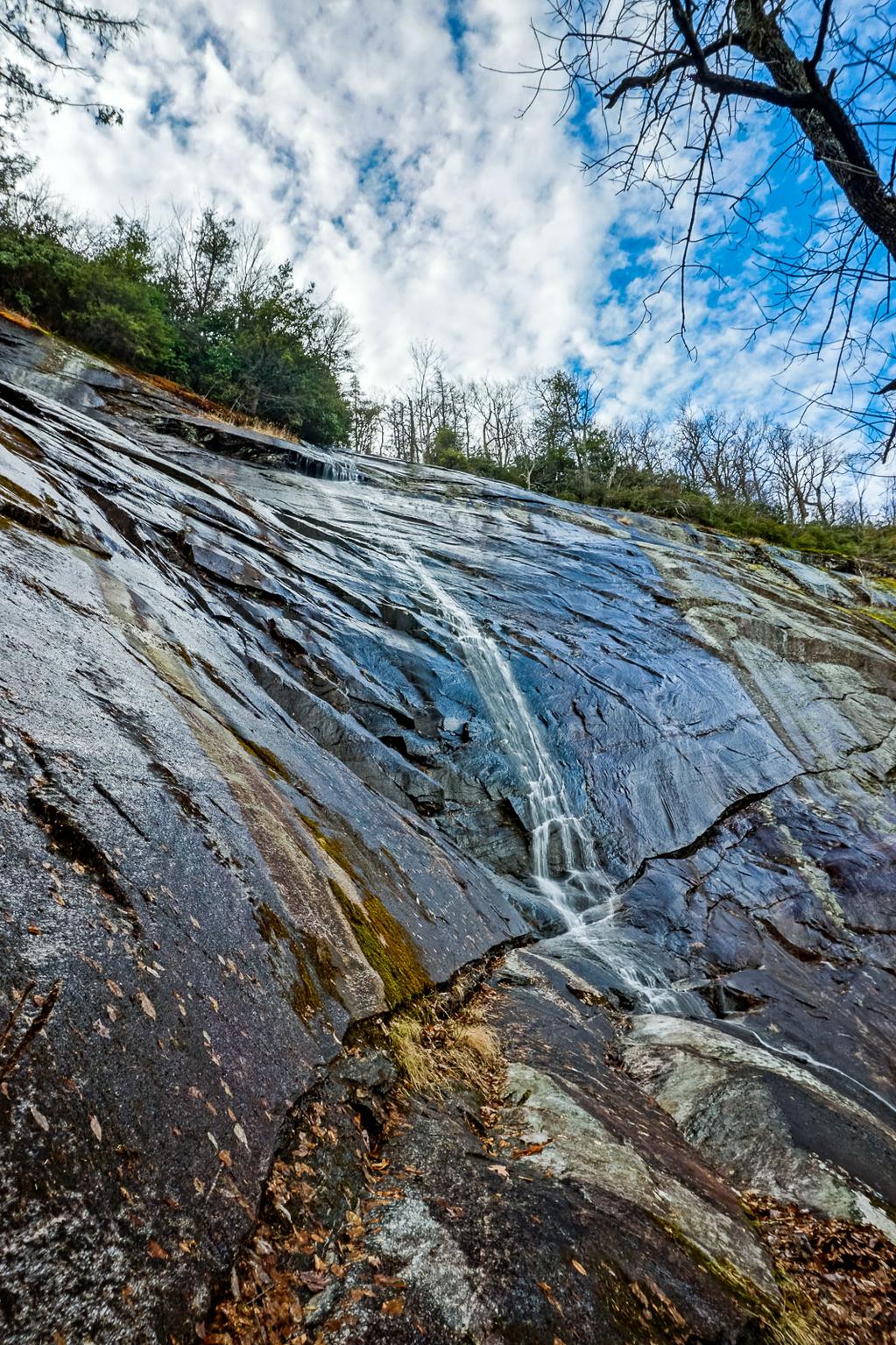 Best seen in wet weather, this is a high slide that turns into a bit of a cascade in places near the top and the bottom, before ending in a boulder field. It's impressive but only in very high water flow. Visit after deeply soaking rains for the best view.
Here is an interesting view of the falls on Bing Maps as well.
Statistics
Height: At least 100 ft
Elevation: 3075 ft
Stream: Unnamed
Landowner: Carolina Mountain Land Conservancy
GPS: 35.467974, -82.339511
Hike Information
Difficulty: More Difficult
Length: 2.2mi
Tread Condition: Moderately Rough
Type: Out-and-back
Map
Driving Directions
From Asheville, take I-240 East toward I-40. Take US 74-A (straight) toward Lake Lure/Chimney Rock, NC. It's 13.9 miles past this junction to the Upper Hickory Nut Gorge parking area on the left. It's 0.9 miles past the Gerton Community Center and Nita and Susan's Country Store. Look for the stone wall, old chimney, and signs. The parking area is a decent size, but try to leave plenty of room for others as you choose a spot.
Trail Description
Cross US 74-A and look for the steps descending to the left of the private paved driveway. At the bottom of the steps, enter an apple orchard. Follow the left edge of the orchard downhill toward the stream, then turn right, uphill, staying around the perimeter of the orchard. The trail re-enters the woods shortly at a sign and map, and descends a set of stairs.
At the bottom of the stairs, you'll cross a small tributary and then cross Hickory Creek on a nice wooden bridge. Keep left on the other side of the bridge, and descend slightly before veering right and starting decidedly uphill after a short stint on an old road bed. This section of trail, which was recently constructed, is well-designed and in good condition.
After 0.6 mi. you'll cross the unnamed stream which forms the waterfall. In the wintertime, you can look uphill through the woods for a glimpse of the falls. Continuing on the trail, you'll reach a steeper section with nicely-built rock steps and switchbacks. The steps deliver you to the best view of the falls at the base of the huge cliff face.
Return to your vehicle on the same path.