Shuck Ridge Creek Falls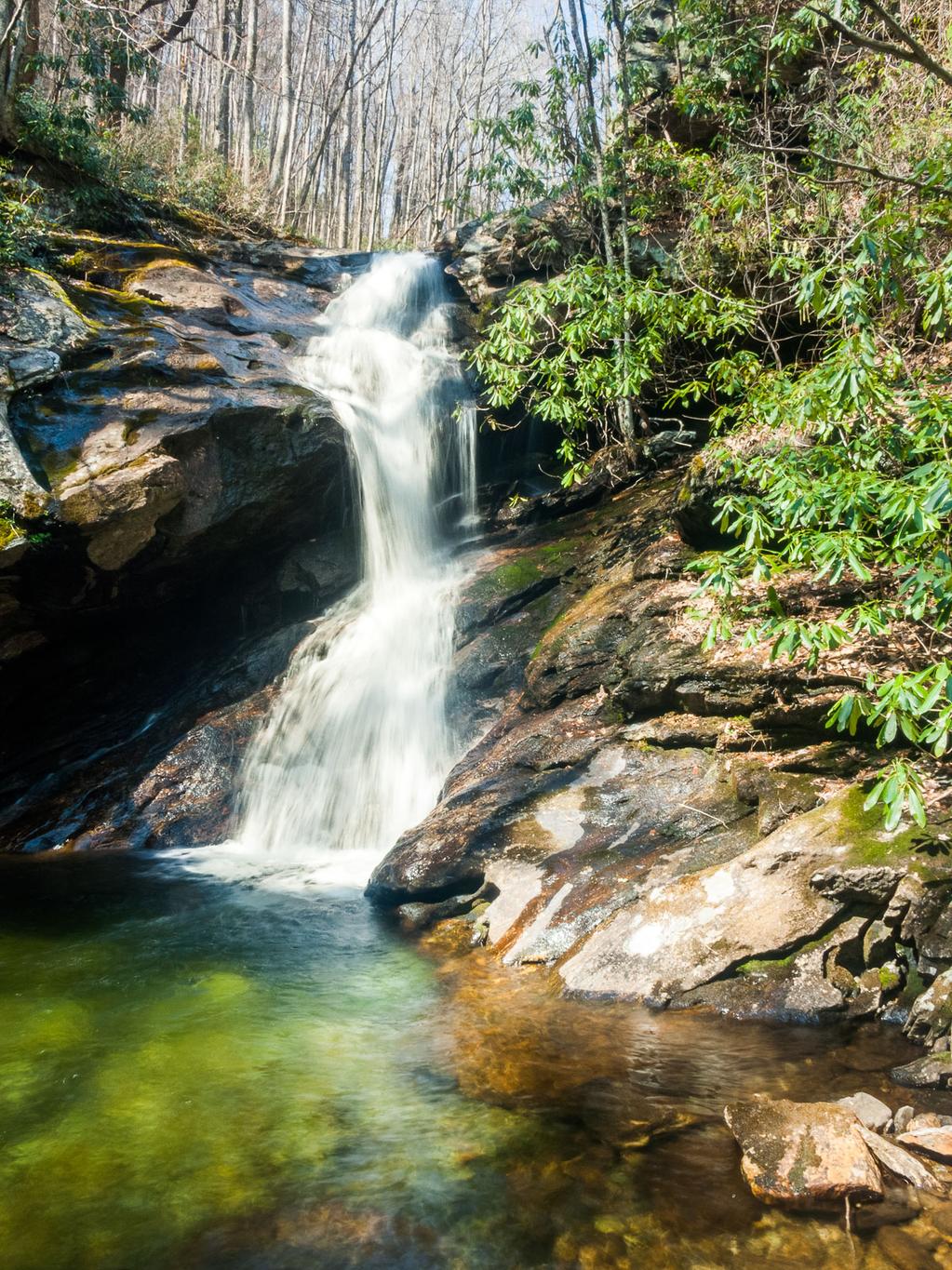 A chute/cascade leaps into a short free fall, before crashing down on a sloped rock and cascading a little farther into a big, deep, blue-green pool. A small overhanging cave is in the rocks to the left of the falls.
Statistics
Height: 25 ft
Elevation: 3575 ft
Stream: Shuck Ridge Creek
Landowner: Pisgah National Forest, Pisgah Ranger District
GPS: 35.295733, -82.861582
Hike Information
Difficulty: Most Difficult
Length: 8.2mi
Tread Condition: Moderately Rough
Climbing: Climbs Steeply (1705 ft)
Type: Out-and-back
Map
Driving Directions
From the intersection of US Hwy 276 and 64 and NC Hwy 280 in Brevard, follow US 276 west for 5.2 miles. There are signs for Pisgah National Forest. Turn left onto FS 475, following signs for the Pisgah Center for Wildlife Education. The parking area is 3.9 miles ahead, on the right. (You will pass the Pisgah Center and fish hatchery at 1.4 miles, and the road turns to gravel at the parking for Cove Creek Falls).
Trail Description
The hike to the falls is long, and seemingly a lot of effort for the small waterfall to be found at its end. But it's a beautiful trail with plenty of scenery besides the falls, making it well worth the effort.
Start by hiking across the bridge over the Davidson River for FS 5046. Turn left onto the Daniel Ridge Loop trail in less than 0.2 mi. The forest closes in over the trail as it follows an old road parallel to a beautiful stretch of the river. The trail starts going up and down some and narrows, then turns right and distinctly uphill as it starts following the Right Fork at an old bridge abutment. The trail reaches a junction with Farlow Gap trail about 1.7 miles from its start.
Turn left on Farlow Gap trail. The trail crosses Right Fork, then ascends through a series of switchbacks to pick up an old logging railroad bed on Fork Ridge. It levels out some but continues climbing as it goes around Fork Ridge, then crosses Daniel Ridge Creek, then goes around Shuck Ridge. This is a long, yet scenic stretch of the hike, and there are no major intersections.
The trail reaches its high point on Shuck Ridge, then you'll reach a point where it leaves the old railroad bed and descends onto a steep side slope as Shuck Ridge Creek comes into hearing distance. The trail then crosses Shuck Ridge Creek above the falls - use caution here. A steep, slippery side path after you cross the creek descends steeply to the base of the falls downstream of the pool. Use extreme caution. You'll want to cross the creek below the pool for the best view of the falls.
Return to the starting point on the same path.