Granny Burrell Falls
Also known as: Granny Burrel Falls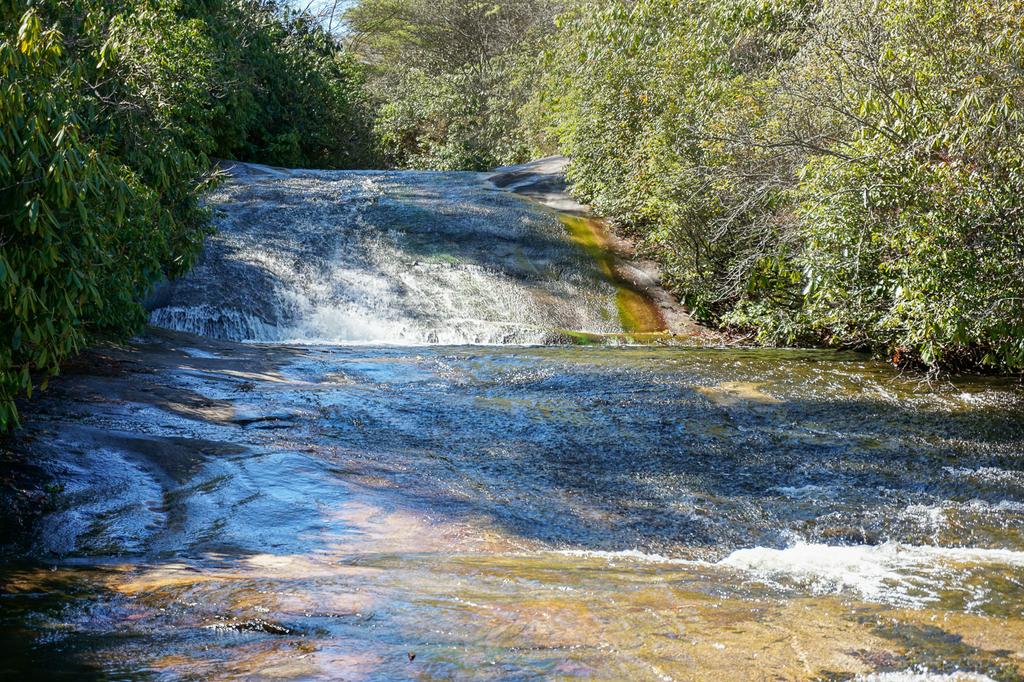 This falls starts with a short drop, which goes into a very long, gentle slide into a deep pool. Many people use the lower part of it as a natural waterslide, albeit a bumpy one. And it's almost too shallow of a slope to be good for sliding.
In years past, the Forest Service has spelled the name with one "L" at the end. I'm not sure if this was on purpose or a typo, but nearly everyone uses the double-l spelling now, so I've switched to it.
Statistics
Height: 15 ft
Elevation: 3650 ft
Stream: Panthertown Creek
Landowner: Nantahala National Forest
GPS: 35.162837, -83.028719
Map
Driving Directions
The quickest way to the falls starts at Panthertown's West entrance. From the intersection of US Hwy. 64 and NC Hwy. 107 in Cashiers, NC, go east on 64 for 2 miles. Turn left onto Cedar Creek Road and go 2.3 miles. Turn right on Breedlove Road (there is a sign for the Panthertown Valley) and go about 3.6 miles to the end of the pavement. The trailhead is about 1/4 mile ahead on the gravel road. Although rough in the past, the road has been well maintained for the last few years, meaning it should be accessible to passenger vehicles.
Trail Description
Take the main Panthertown Valley trail. After 0.6 mi., a little ways past the Salt Rock overlook, turn left on the Deep Gap trail. Descend another 1/4 mi. into the valley and turn right at Mac's Gap trail. Go another 1/4 mile, downhill, and cross the creek on a wooden bridge. Just on the other side of the bridge, turn right onto the Granny Burrell Falls trail. It's about 0.1 mi. up to the falls, on the right.