Rich Falls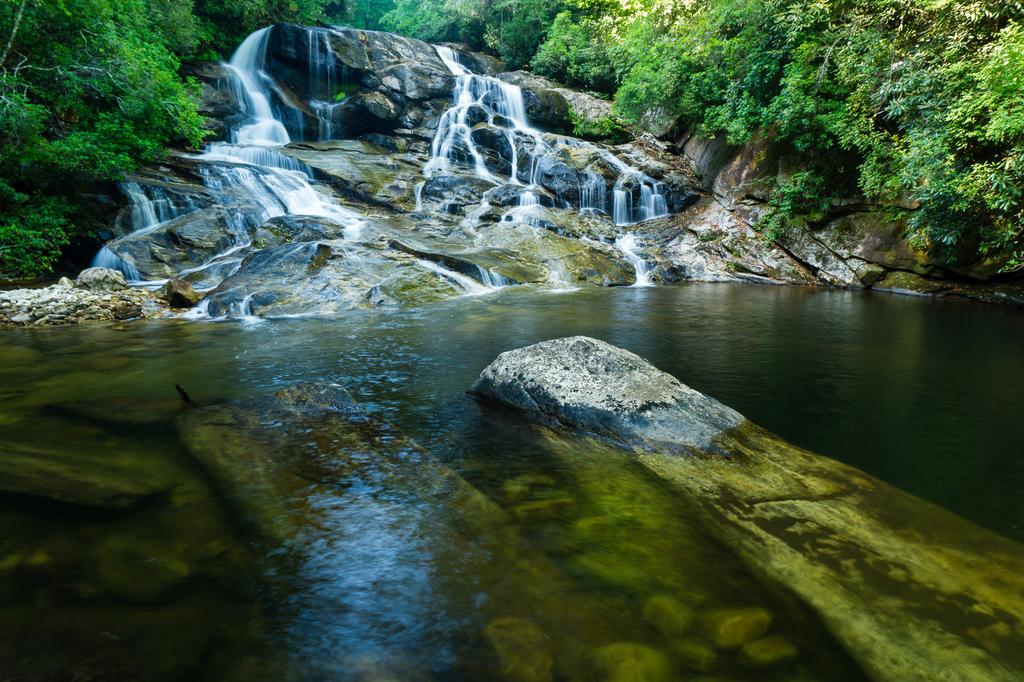 This is a beautiful, wide, spreading waterfall composed of numerous little cascades, free-falls, and slides. Spray-cliff plant communities thrive in some of the nooks and crannies of the bluff the water falls over. It ends in a big, deep pool which makes a great summer swimming hole. A pile of river stone sits on the river right side of the falls at a shallower portion of the pool. There are big boulders in and surrounding the pool, some of which are covered with moss.
The falls has a much different character in lower water flow, but the size of the Thompson River watershed ensures there's always a good bit of water coming over the falls. This one is highly recommended to those who can manage the fairly difficult trek required to reach it.
Statistics
Height: 35 ft.
Elevation: 2320 ft
Stream: Thompson River
Landowner: Nantahala National Forest, Nantahala Ranger District
GPS: 35.04984, -82.983783
Hike Information
Difficulty: More Difficult
Length: 3.1mi
Tread Condition: Very Rough
Climbing: Climbs Steeply (700 ft)
Type: Out-and-back
Map
Driving Directions
From the junction of US Hwy. 64 and NC Hwy. 281 west of Lake Toxaway, NC, go south on NC 281 for 3.6 miles (passing the Gorges State Park entrance on the left). An intersection with Brewer Rd (SR 1189) is to the left. Turn left and park in the wide spot on the right side of Brewer Rd. at the intersection.
An old gated logging road/trail leads uphill from the NC 281/Brewer Road intersection (FS 87, Thompson River Road, but it's not signed).