High Falls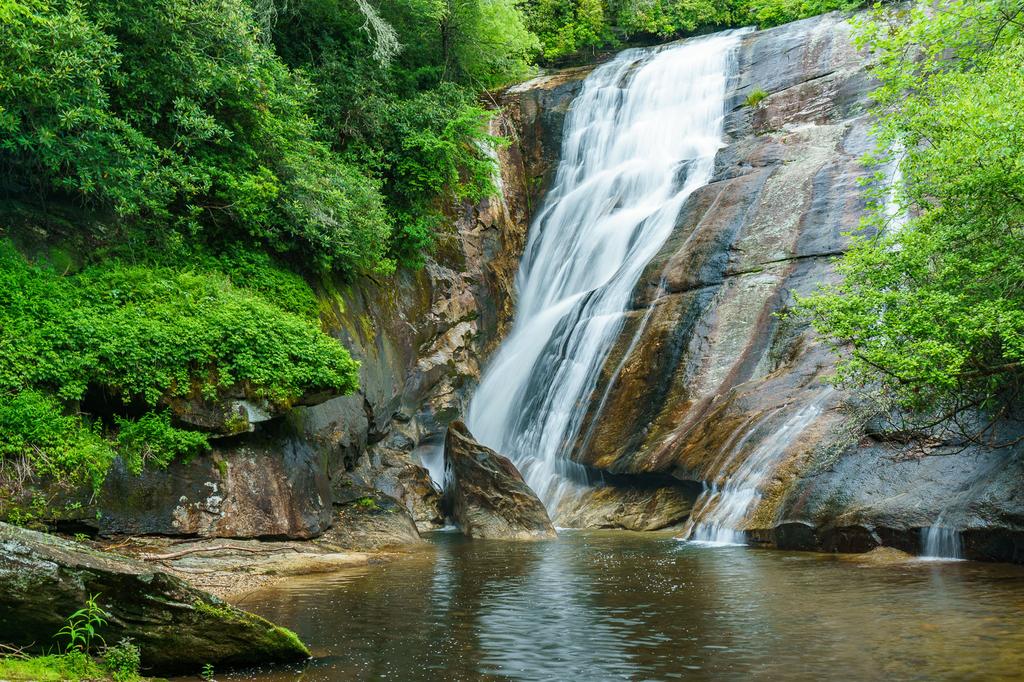 A steep slide, with ledges kicking the falling water out into rooster-tails in places, which culminates into a slot behind a jutting, triangular rock. The river then turns 90 degrees and flows through a beautiful, deep plunge pool. There are some great sandy and gravely beaches to hang out on, and the plunge pool makes a great swimming hole.
Lush green surrounds the falls, but the canopy is open, meaning the falls and swimming hole get some good sunlight.
Statistics
Height: 50 ft
Elevation: 2700 ft
Stream: Thompson River
Landowner: Nantahala National Forest
GPS: 35.070116, -82.994247
Hike Information
Difficulty: Moderate
Length: 3mi
Tread Condition: Moderately Rough
Climbing: Climbs Moderately (425 ft)
Type: Out-and-back
Map
Driving Directions
From the junction of US Hwy. 64 and NC Hwy. 281 west of Lake Toxaway, NC, go south on NC 281 for 3.6 miles (passing the Gorges State Park entrance on the left). An intersection with Brewer Rd (SR 1189) is to the left. Turn left and park in the wide spot on the right side of Brewer Rd. at the intersection.
An old gated logging road/trail leads uphill from the NC 281/Brewer Road intersection (FS 87, Thompson River Road, but it's not signed).