Toms Creek Falls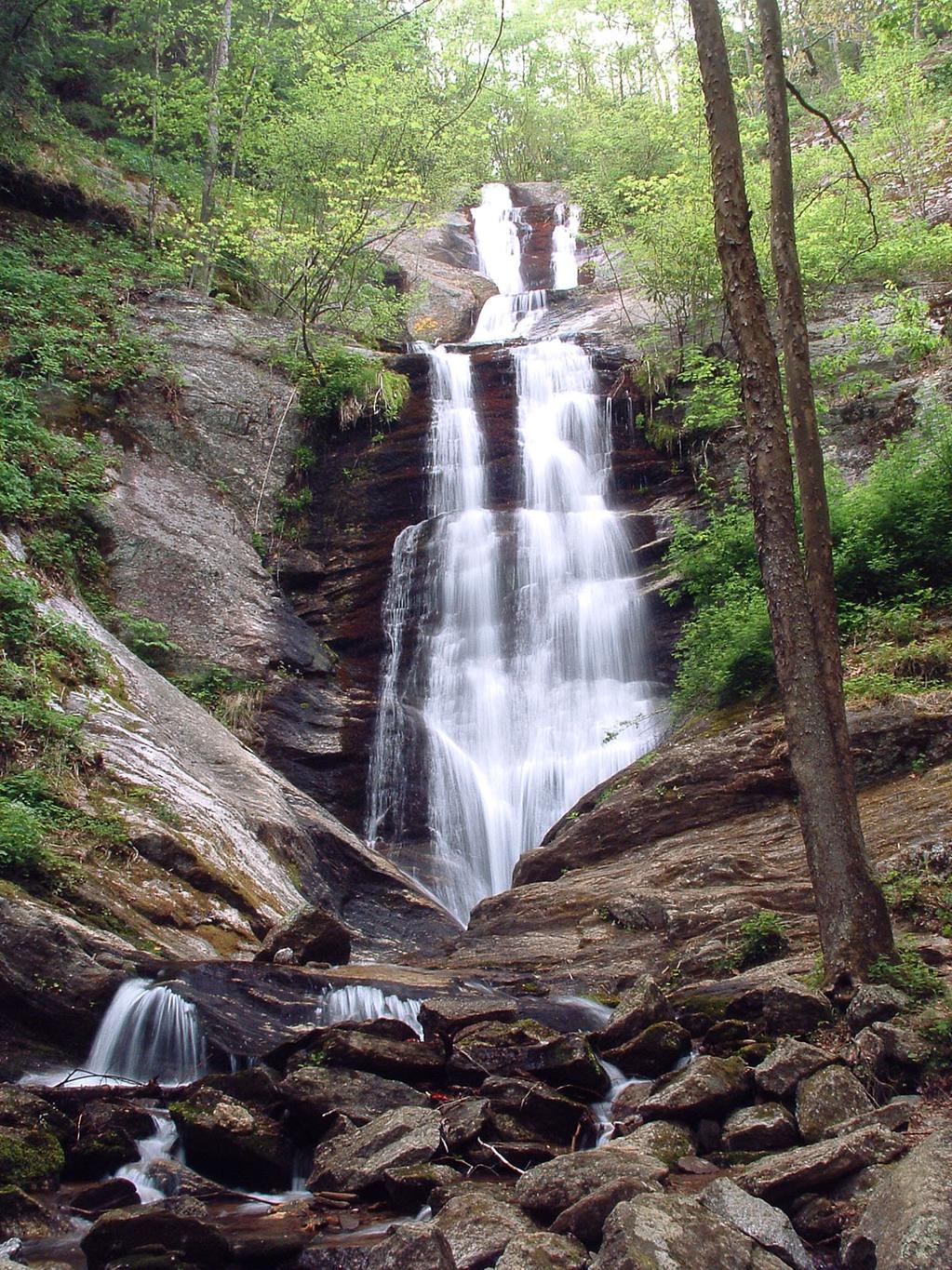 This is a tall, pretty falls with a nice area at the base for hanging out. This one benefits from normal to wet weather, but it continues flowing even when it's dry.
The water comes down a near vertical drop over multiple levels and mini ledges, and the rock near the bottom is sculpted by the flow. After flowing through a level area, a series of smaller cascades is just downstream - beneath the observation deck.
Just downstream from the falls on the left side of the valley is a neat old mica mine, which is filled with water.
Statistics
Height: 60 ft
Elevation: 1780 ft
Stream: Toms Creek
Landowner: Pisgah National Forest
GPS: 35.777508, -82.062057
Hike Information
Difficulty: Easy
Length: 0.8mi
Tread Condition: Some Obstacles
Climbing: Climbs Gently (120 ft)
Type: Out-and-back
Map
GPS Directions & Map
From Current Location or address:
Driving Directions
From the intersection of US 70 and US 221 North in Marion, NC, drive about 5 1/2 miles North on US 221. Turn left on Huskins Branch Road, just before the old Woodlawn Motel. The road climbs and turns gravel, then paved again. At 1.2 miles from the start, park in the gravel lot on the right.
Trail Description
The Falls Branch trail is signed and starts at the back of the parking area. The trail follows an old road bed most of the way, and it is easy. It has a surface of hard-packed sand and gravel and creek crossings are by bridge of culvert. And except for a short hill right at the very end, where there are some switchbacks, it is nearly level. Benches are placed along the way for relaxing to the sound of the rushing water.
At the end, there is an observation deck. A scramble path heads right up to an old campsite, from which you can scramble down to the creek right at the base of the falls. It makes a great place for kids to wade (it's about ankle-deep).
To get to the old mica mine, cross the creek below the falls, go left, and follow the path downstream a few feet to the mine on the right. It's filled with water, so stay back from the entrance.