Bridal Veil Falls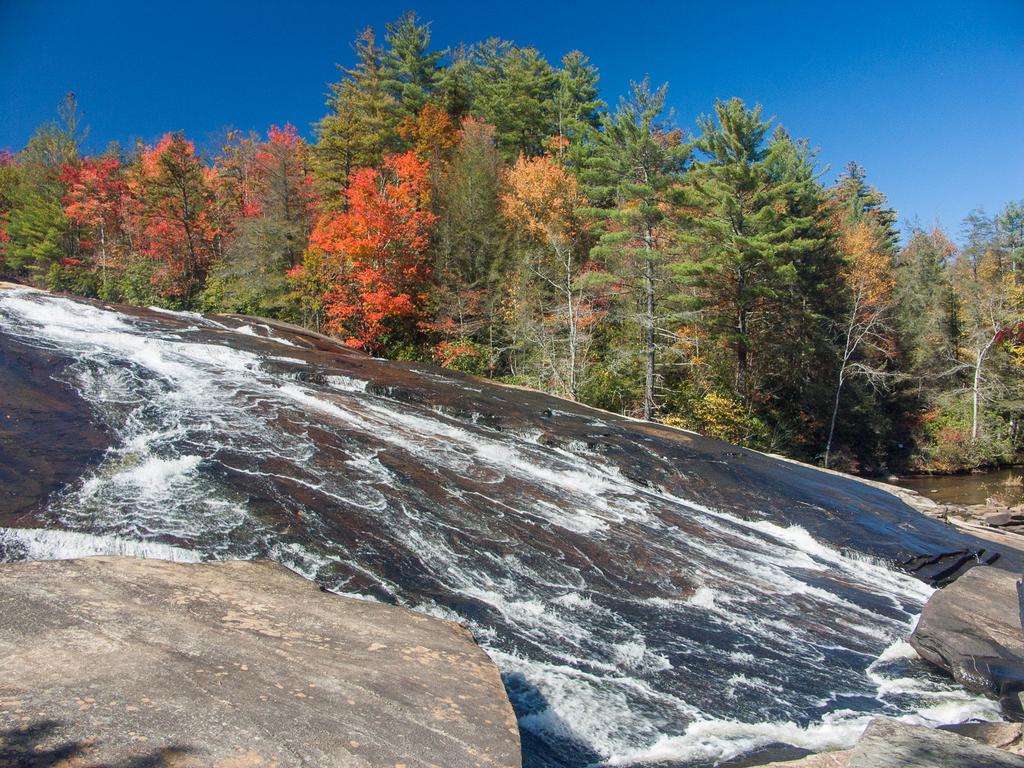 This falls starts with a short drop over a ledge, which allows you to climb behind the falling water if you don't mind getting a little wet.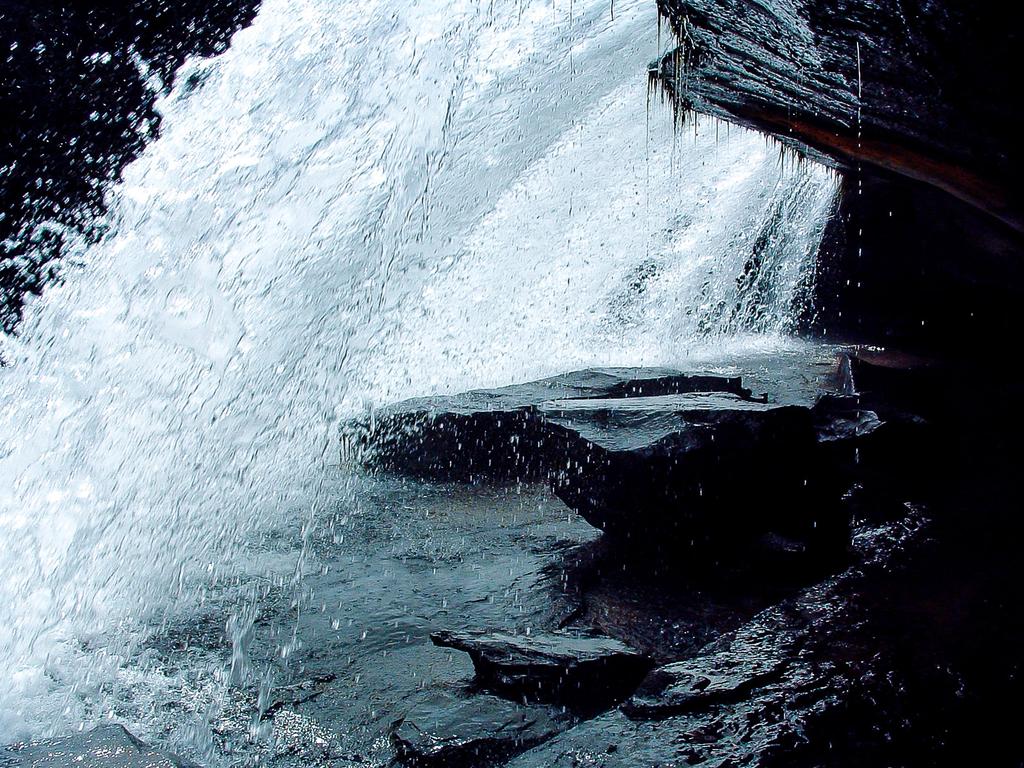 Then, the river fans out and flows down a wide, gently sloping rock face - a bit steeper near the bottom - giving the falls its name. A portion of the water drops off a more traditional cascade/waterfall at the bottom, river left.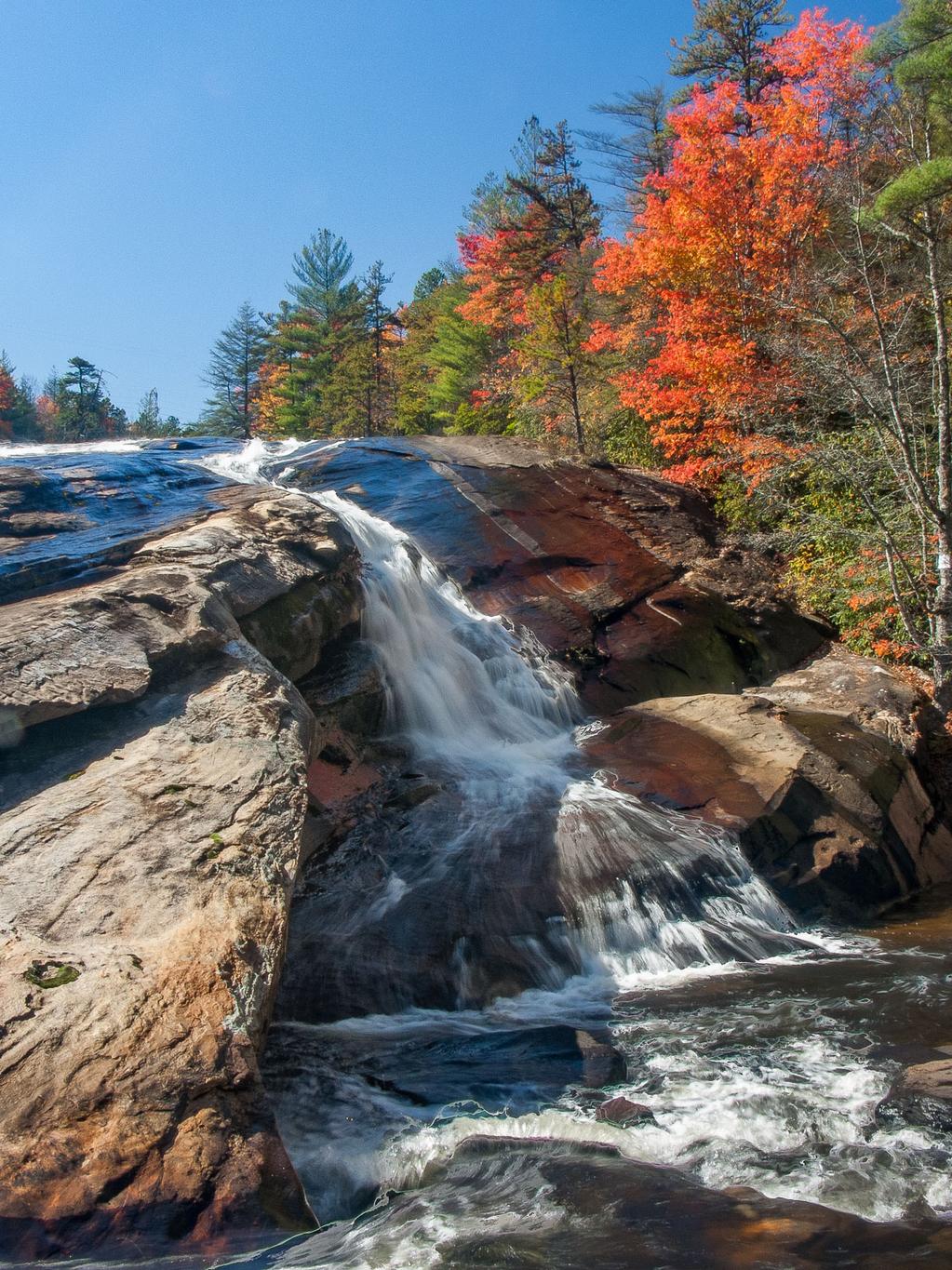 This unusual waterfall is a spectacular sight and highly recommended.
Statistics
Height: 100 ft
Elevation: 2500 ft
Stream: Little River
Landowner: Dupont State Forest
GPS: 35.177486, -82.619266
Hike Information
Difficulty: Easy
Length: 4.7mi
Tread Condition: Few Obstacles
Climbing: Climbs Gently (120 ft)
Map
GPS Directions & Map
From Current Location or address:
Driving Directions
Bridal Veil Falls is close to the center of Dupont State Forest. You can get there from a couple of parking areas, but the quickest way is to park at the High Falls (formerly called Buck Forest) parking area.
From Asheville, take I-26 east to Exit 40, and take NC-280 toward Pisgah Forest. At the NC 280/US 276/US 64 junction, turn left (east) on US-64 and go 3.7 miles to the Texaco station in Penrose. Turn right on Crab Creek Rd. Go 4.3 miles and turn right on DuPont Rd. Go just over 4 miles to the parking area on the left.
(Dupont Road will climb a hill and change names to Staton Road, then begin a long downhill, at the bottom of which is the bridge over the Little River and the Hooker Falls parking area. Keep going - the High Falls parking area is just past this on the left).
Trail Description
Hike down Buck Forest Road and cross the covered bridge after about 0.6mi. Just beyond the bridge, go right on Conservation Road. It's about 1 mile to Bridal Veil Falls Rd - you'll first cross over the bridge for Reasonover Creek below the Lake Julia Dam. Go right on Bridal Veil Falls Road, past the horse barn. The road ends after 0.5mi in a small loop, and a well graded path goes a few hundred feet from the loop to the viewing area at the base of the falls.