Hooker Falls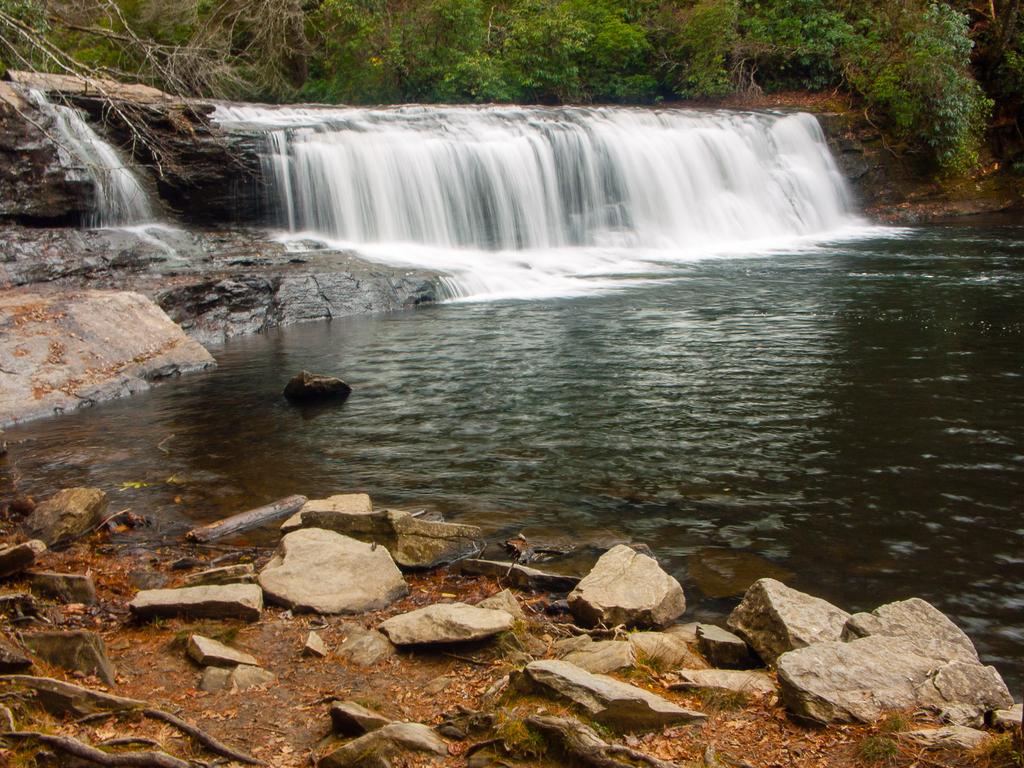 This waterfall - which is wide, but not tall - is also a short hike from the parking area, making it popular. Don't let its size fool you though - it's a beautiful falls in a beautiful setting. It's well worth the small amount of effort required to reach it.
Statistics
Height: 15 ft
Elevation: 2240 ft
Stream: Little River
Landowner: DuPont State Forest
GPS: 35.2019, -82.623405
Hike Information
Difficulty: Easy
Length: 0.35mi
Tread Condition: Few Obstacles
Climbing: Climbs Gently (40 ft)
Map
GPS Directions & Map
From Current Location or address:
Driving Directions
From the intersection of US 64/US 276/NC 280 in Brevard, NC, take US 64 East and drive 3.7 miles. Turn right on Crab Creek Road. Drive 4.3 miles and turn right on Dupont Road. Go 3.1 miles to the parking area on the right. (The road changes to Staton Road along the way. It will climb and then begin a long downhill, at the bottom of which is the bridge over the Little River. The parking area is on the right just before the bridge.)
Trail Description
Take Hooker Ridge Road leading down river from the back parking lot, to the right of the footbridge. This is an old gravel road. This trail is level, and goes just under 1/4 mile through hemlocks to a viewing area of the falls, on the left. Some of the hemlocks have been treated for Hemlock Wooly Adelgid and tagged; these are looking quite healthy. The rest are dead or nearly so.
To reach the bottom of the falls, continue past the viewing area down a short hill, and then curve left. This viewing area was re-constructed from giant boulders and sand after the floods in 2004, and is a nice area to hang out and enjoy the falls.