Waterfall on Craggy Knob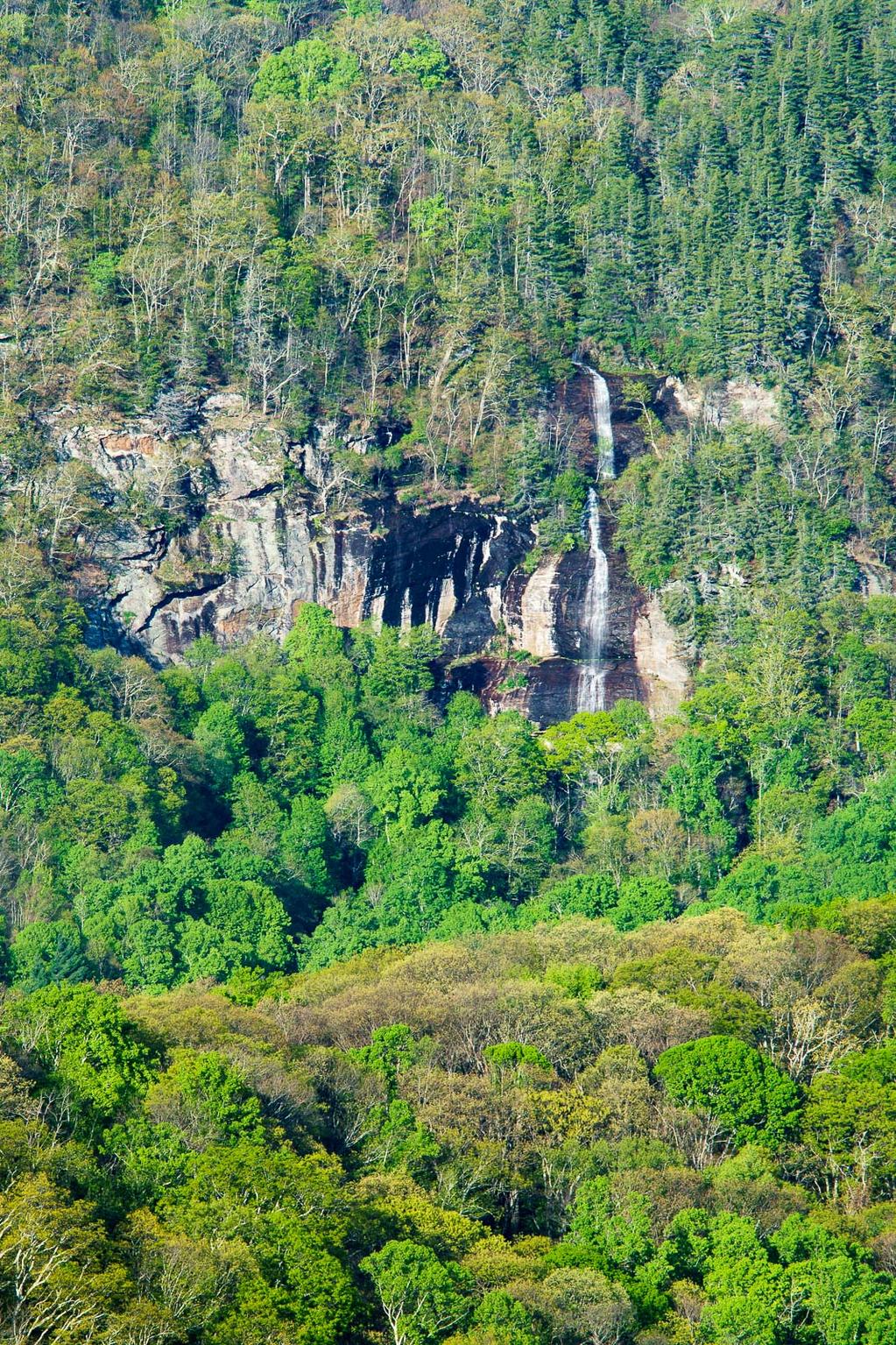 This spectacular falls - viewable only from a distance - looks to be well over 200 feet high, and portions are free-falling at that.
Though you can't reach the falls directly - it's owned by the City of Asheville for the Asheville Watershed - vehicle passengers can glimpse it while driving on the Blue Ridge Parkway between mileposts 368 - 370. However, it's not safe to look while driving and you can't pull off the road and stop in this area due to it being within the Watershed!
So you'll have to hike to get a good, legal view of this waterfall. You can find one along the Mountains to Sea Trail, on top of a cliff south of Potato Field Gap as you climb Lane Pinnacle. But be sure to go on a clear day, and bring your telephoto lens or binoculars, because it's a distant view! Parking for the Mountains to Sea Trail is available along the Craggy Gardens Picnic Area road where the trail crosses at the junction with Stony Fork Road.
There are actually at least 4 waterfalls spilling off the side of Craggy Knob and into the Beetree Creek drainage. The smaller ones are usually only visible when the leaves are off the trees after a good rain. The biggest one, however, is visible any time of the year as long as the air is clear and some water is flowing.
Statistics
Height: 200 ft
Elevation: 3725 ft
Stream: Tributary of Beetree Creek
Landowner: City of Asheville
GPS: 35.681899, -82.396979
Map
Driving Directions
From Asheville, follow the Blue Ridge Parkway North for about 16 miles just past milepost 368. Turn left at the road to the Craggy Gardens Picnic Area. Park at the pulloff in Beetree Gap, at the intersection with FS 63 (Stony Fork Road).
Trail Description
Hike the Mountains to Sea Trail south, going up the steps on the left as you drove in. Follow the trail uphill and bear left at the intersection with the Snowball trail. Descend to Potato Field Gap. Follow the Parkway for a short distance and pick up the trail again on the right. The trail ascends the ridge, eventually topping out near Lane Pinnacle above some cliffs. At a couple of points you'll get a clear view of the falls across the valley.