Waterfall on Little Andy Creek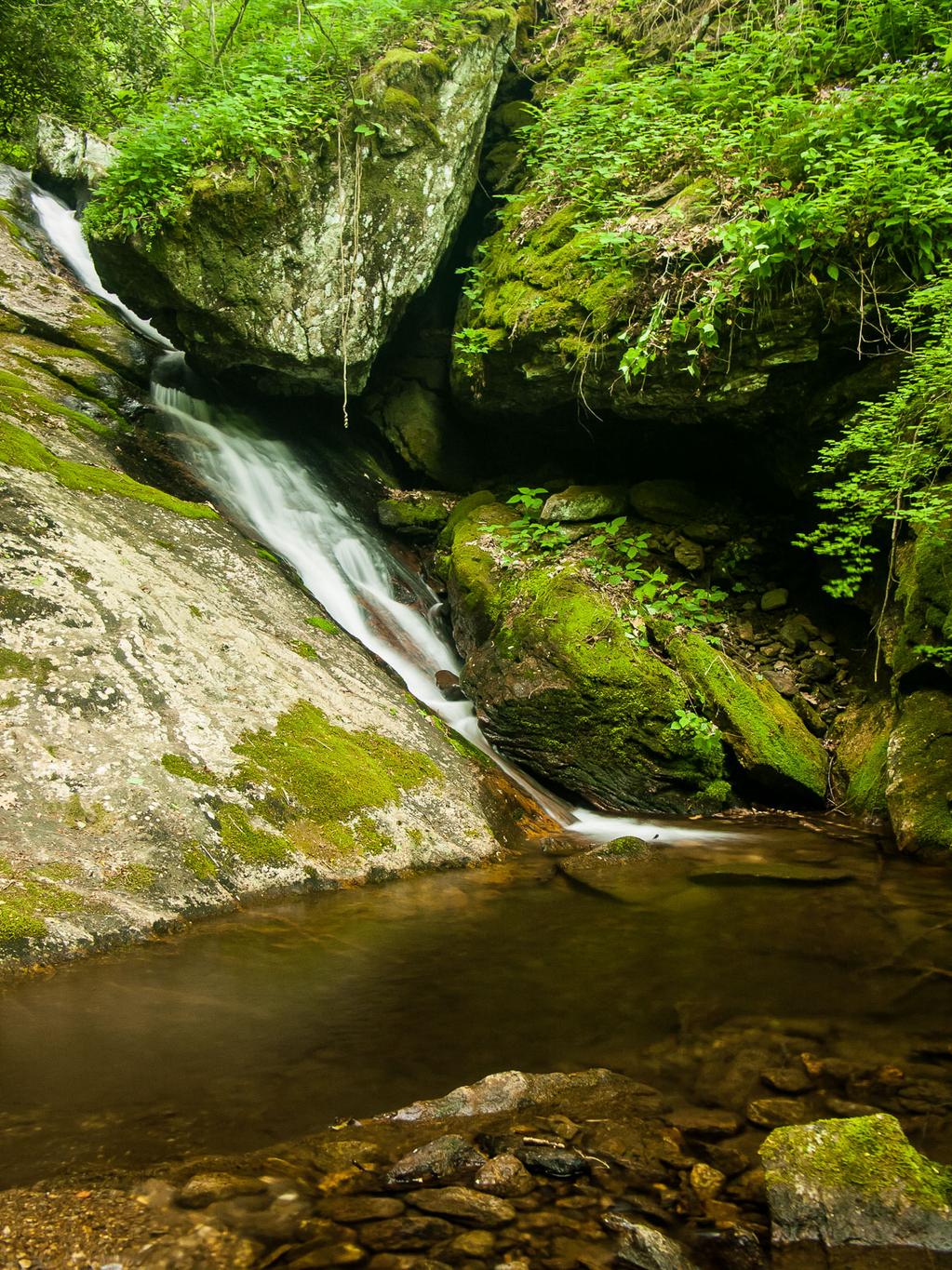 This small falls is located right beside FS 74. It's partly visible as you drive by, but for the best view park and walk around the shrubs to the base. It's a short slide under and around a large overhanging boulder with a cave-like crack in it, ending in a small, clear pool. This one is best seen after a rain but its delicate appearance is nice as long as it's visibly flowing.
Statistics
Height: 20 ft
Elevation: 3637 ft
Landowner: Pisgah National Forest
GPS: 35.767493, -82.359052
Map
Driving Directions
This cascade is located on FR 74, on the first drainage past the big switchback at Corner Rock Creek, just uphill of the road. From Asheville, NC, take I-240 West to I-26/U.S. 19-23 North. Go 12.4 miles to Exit 15, N.C. 197 for Jupiter/Barnardsville. Turn right at the end of the ramp and follow N.C. 197 for 6.0 miles to downtown Barnardsville. Turn right onto Dillingham Road just past the old fire station. Go 4.9 miles on Dillingham Road - bear left at a fork after 2.2 miles, left again at a fork at 3.6 miles, and right at 3.9 miles just after a narrow bridge. The road transitions to gravel at the 4.9 mile mark - continue straight into the Big Ivy area of Pisgah National Forest on F.R. 74. Go another 3.7 miles on F.R. 74 to the crossing of Little Andy Creek and park in the wide area on the road. This road is curvy and bumpy, but easily traveled by a passenger vehicle.
Trail Description
A faint path leads upstream to the cascade, which is easily visible from the road when leaves are off the trees.