Upper Dill Falls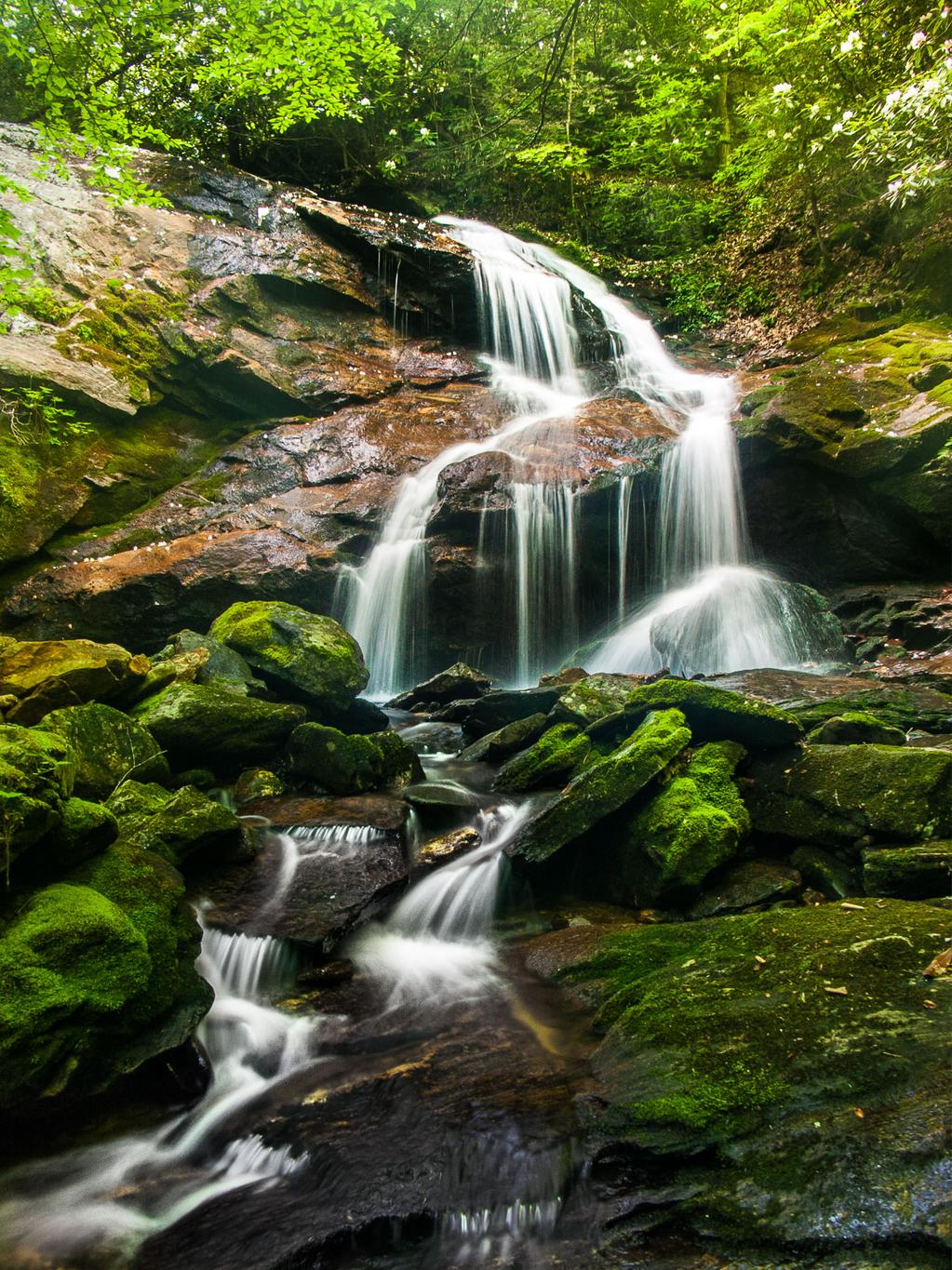 Above Dill Falls lies this beautiful companion. It's not as tall, but it has character with its shape and combination of free falls and cascades, and even a rooster tail if the water is up. It lies in a beautiful setting.
Statistics
Height: 25 ft
Elevation: 4184 ft
Stream: Tanasee Creek
Landowner: Nantahala National Forest
GPS: 35.283981, -82.9433
Map
Driving Directions
From the intersection of NC Hwy. 215 and the Blue Ridge Parkway, go south on NC 215 for 2.6 miles. Turn right on FR 4663 - it's between a house and a trailer and looks like a driveway, but it should be signed. Follow this narrow road for just under 2 miles to FR 4663B on the left (it may be hard to spot as you're going up a steep hill at the junction).
In the past, FR 4663B was too rough to take a passenger vehicle on, but as of July 2009 it was in fine shape. Go just over 1/2 mile to the parking area at the end.
Note: both of these roads have been known to be in bad conditions over the last few years, and sometimes they're closed. You may have to hike a lot further to reach the falls if this is the case. They're in fine shape for now, but having a high-clearance vehicle might help if they deteriorate once again.
Trail Description
The hike to this falls is about 3/4 mile round trip, and difficult - but only due to the very steep scramble from an old logging road down to the falls. Otherwise, it would be easy/moderate. Maybe some day a properly graded trail will be built down to the falls...
Two old logging roads lead to the right out of the parking area - one goes uphill and one downhill. Take the one leading uphill. It's fairly steep, and you'll have to carefully negotiate some gigantic craters the Forest Service dug to keep people from driving their pickup trucks up this old road. It levels off very soon and starts back downhill; you will start to hear the falls down to your left. Find the faint, steep scramble path leading straight down the bank to the base of the falls (it was marked with flagging tape on my last visit, but don't count on that).