Waterfall on Little Fall Branch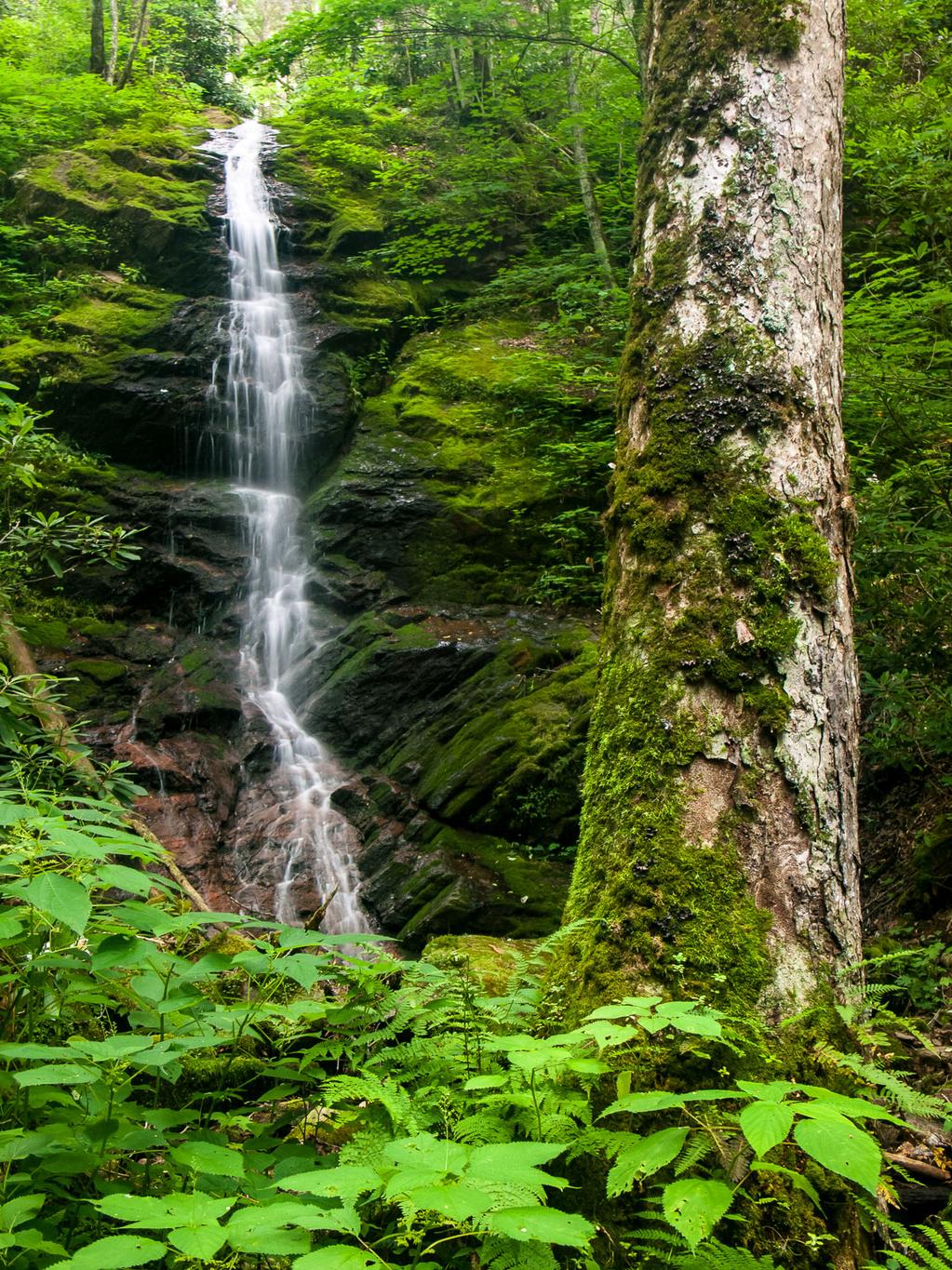 A small, narrow stream flows over a mossy rock face just a little too reclined to make it a free fall. Still, some ledges launch the water into mid air in spots. It becomes a small sliding cascade near the bottom. The falls is surrounded by lush vegetation of all kinds. During very dry weather this one's probably not worth seeing, but from slightly below normal to high water flow it's very pretty. And it's easy to get to. Don't trample any of the mossy rocks or plants growing at the base, but there is plenty of room to hang out without doing that and a little pool the kids can splash in.
Statistics
Height: 40 ft
Elevation: 3082 ft
Stream: Little Fall Branch
Landowner: Pisgah National Forest
GPS: 35.755233, -82.976283
Map
Driving Directions
Take I-40 to Exit 7, for Harmon Den, just east of the Tennessee State Line in the Pigeon River Gorge. If traveling west on I-40, turn right at the end of the ramp; if east, turn left. This is FS 148, Cold Springs Road, and it becomes gravel. Go 3.7 miles and turn right at the signs for the picnic area and horse camping area (FS 3526). Follow this 0.3 mile, past the picnic area and horse camp, to the wide area right before the gate. Park here, but don't block the gate.
Trail Description
Walk around the gate and find the easy path leading uphill to the left. Just a few years ago there was no path, but with this falls being listed in books and local websites it has become more popular and an obvious path has formed. The path follows the creek upstream on the right, on a gentle grade, to the base of the falls in about 0.3 mile.
The Forest Service is proposing to log the forest along this path up to the falls as part of the 12 Mile Project, because of course they are.