Waterfall Below Wildcat Falls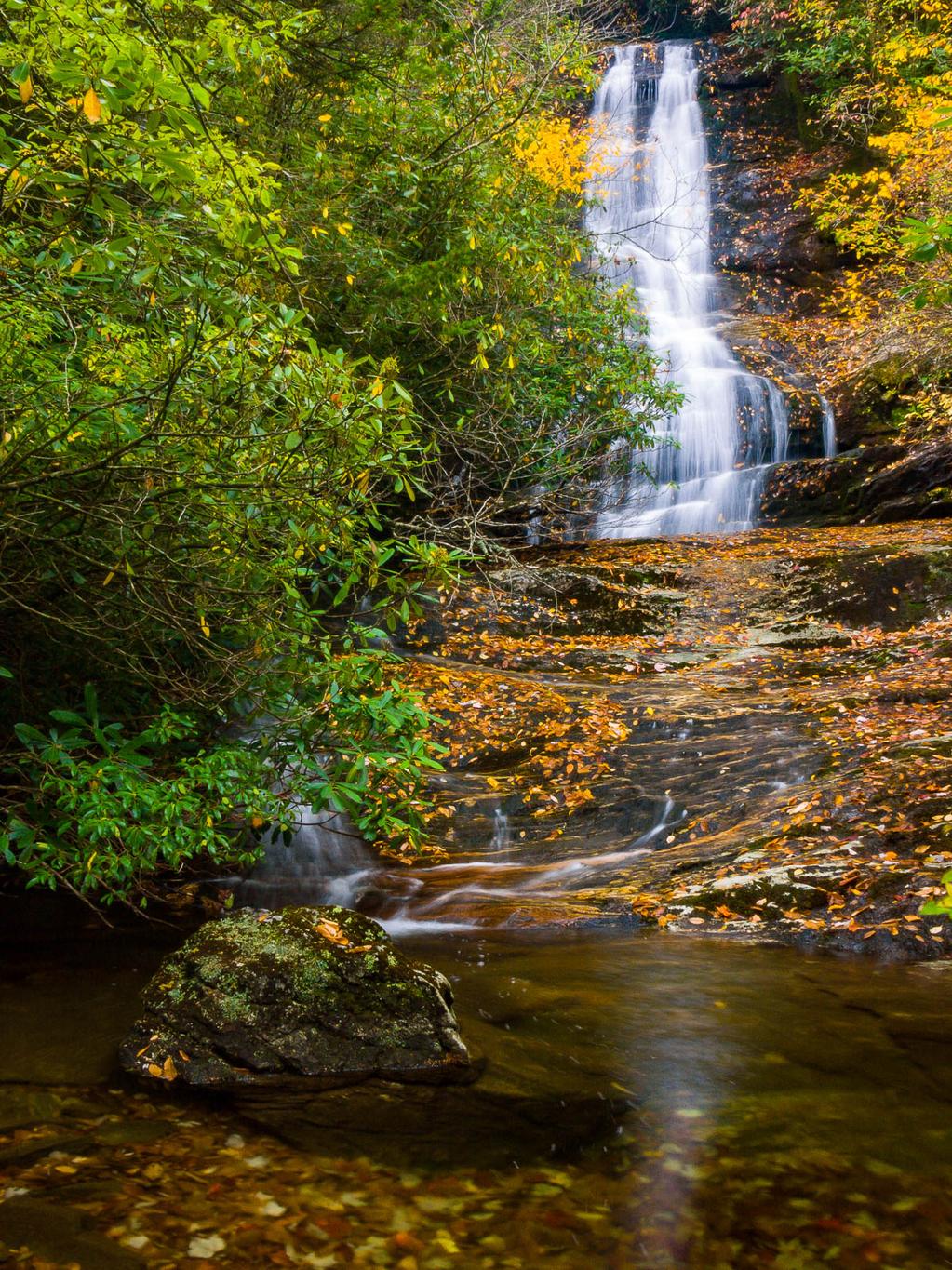 This is a rather nice waterfall when there isn't a drought, but unfortunately it is nearly impossible to get to. It's not quite a sheer drop, but the steep cascade ends in a smaller slide and a small, but deep, pool. The spruce-fir forest that surrounds it adds to the scenery.
If you hike the Flat Laurel Creek Trail, you'll cross over this same tributary at Wildcat Falls, which slides under an old concrete bridge. Wildcat Falls is nearly as nice but a lot easier to get to (hint hint).
Statistics
Height: 30 ft
Elevation: 4724 ft
Stream: Tributary of West Fork Pigeon River
Landowner: Pisgah National Forest
GPS: 35.31551, -82.907683
Map
Driving Directions
Although the falls is probably less than 100 yards from the road, there is no trail, and it's difficult and dangerous to reach. It is definitely not recommended to try to reach this falls, but if you must, start at the intersection of NC Hwy. 215 and the Blue Ridge Parkway. Drive 1.8 miles North to the the pull-off for for Bubbling Spring Branch Cascades on the right and park there instead, because THAT waterfall is nice and easy to get to and you can see it from the road.
Still not convinced and want to actually get to this one? OK - keep going on 215 about 1/10 mile to the next pull-off on the right and park there.
Trail Description
From the pull off, walk down the guardrail until the woods "open up" on your right. By that, I mean the rhododendron goes away but there is still plenty of dog hobble to get tangled up in.
Plunge straight downhill until you get to the creek (there's a corrugated drain pipe going under the highway near the "best" spot to descend).
If you can avoid getting your legs jammed or broken in between the rip-rap on the way down, you'll probably die when you fall off the 20-foot bluff above the creek.
But if you somehow manage to negotiate your way down that, cross the creek, where you'll probably fall into a deep pool and drown, or be swept downstream in the swift current.
If you make it to the other side of the creek alive, the falls is a relatively easy walk just upstream on the left. Now you have to climb back up to your car, though.
In all seriousness, maybe the hike's not quite that deadly, but it isn't worth it even for an average hiker. Hopefully you're sufficiently discouraged from trying to reach this waterfall and will just enjoy looking at the picture I took for you :)