Upper Catawba Falls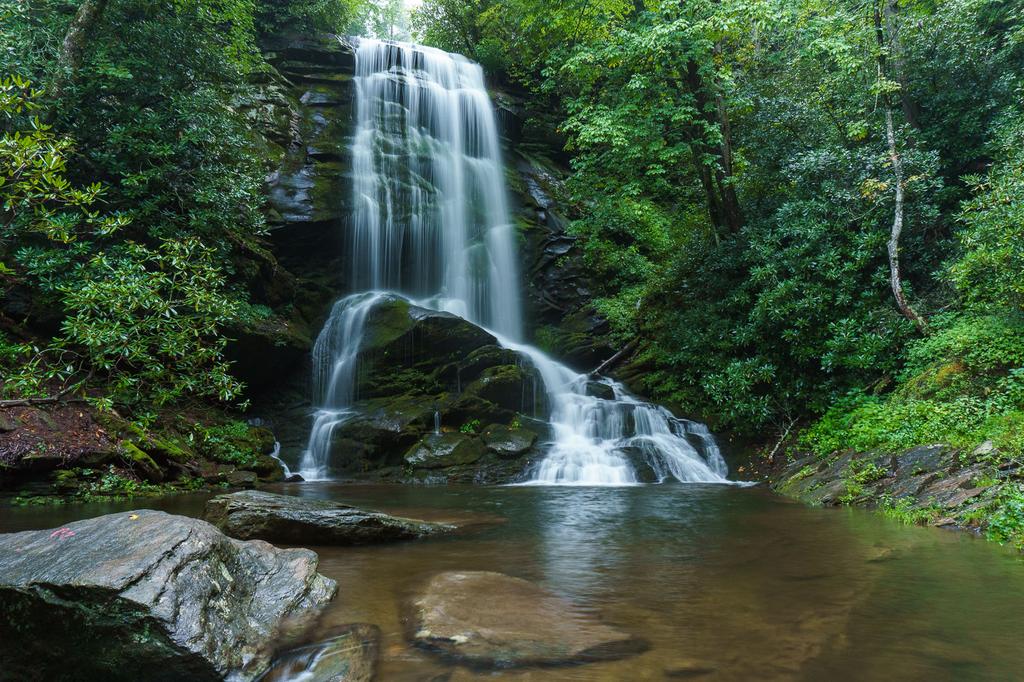 A beautiful free-fall, ending in a split cascade into a deep, clear pool.
Statistics
Height: 50 feet
Elevation: 2320 ft
Stream: Catawba River
Landowner: Pisgah National Forest
GPS: 35.601974, -82.247482
Map
Driving Directions
There is currently no safe public access to this waterfall, but that is likely to change with the upcoming new trail proposed by the Forest Service. This is (luckily) a high priority for them, so I'd expect it in the next 1-2 years (as of summer 2016).
Trail Description
The Catawba Falls "trail" technically continues up the right side of the lower falls to a precipitous path to the base of the upper falls. However, the way is extremely steep, slippery, and dangerous, and it's located right next to the lower falls. It's steep almost to the point of technical rock climbing.
Since a slip on that stretch of the trail could easily be fatal, and injuries have already occurred there - most recently in June 2013 August 2013 January 2015 August 2015 (2 people) October 2015, we do not recommend going beyond the lower falls. Not to mention the resource damage that's being caused by the heavily eroded trail. This is serious stuff, folks! So don't underestimate it like this young man who did but (fortunately) lived to tell about it:
The good news is, no reports of injuries have been made on the trail to the lower falls, and the Forest Service is planning a staircase structure leading to the upper falls, which should make them vastly more accessible. According to a quote from District Ranger Nick Larson in the Asheville Citizen-Times, work on this is scheduled to start in Winter 2018. Until then, enjoy our photos.