Trillium Falls
Also known as: Waterfall on Tributary of Hensley Branch, Waterfall Below Sugarloaf Mountain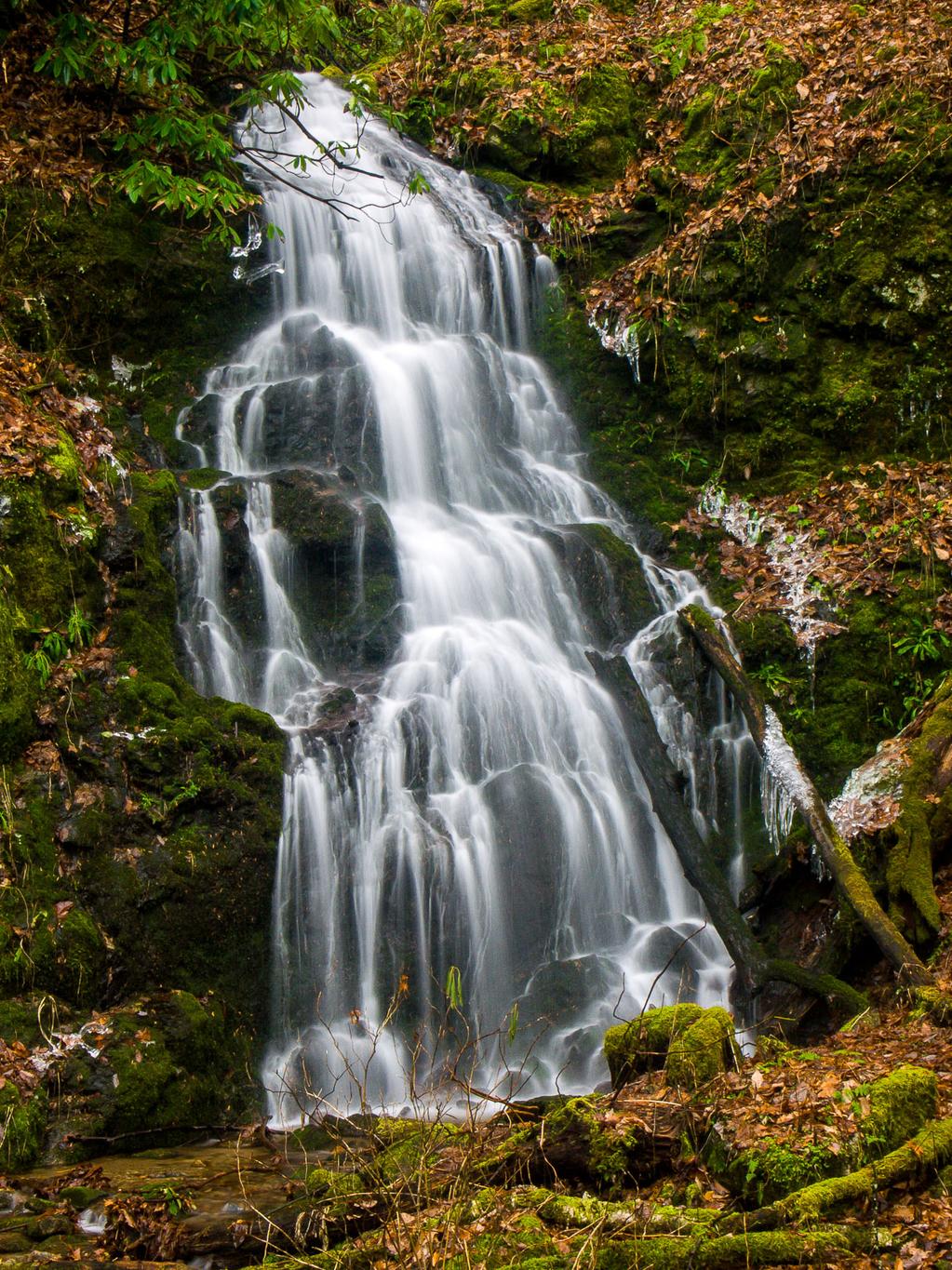 This is one of the starkest examples of how a waterfall's appearance changes with water flow. After some good rains, this is a beautifully shaped cascade, quite a bit taller than wide, but fanning out some near the bottom into lots of little sprays and streams. Trillium grow on the banks of the falls in spring when everything greens up. It's very photogenic then during those times.
But in low flow during the warm season, it slows to a trickle and actually looks kind of sludgey and gross, like just a wet rock plastered with algae. You'll wonder why the heck anyone told you to come look at it then.
According to the GIS and survey description of the parcels from the Madison County Register of Deeds, the Forest Service boundary is the tributary branch (and it explicitly mentions the boundary passing "over the falls of the branch"), so it appears to me the river-right side of the stream (left looking at the falls) should be Forest Service property while the river-left side (to the right looking at the falls) is private. The view from the road is fine, but if you want to take a closer look, go upstream on the left.
This waterfall is called Trillium Falls in the latest edition of Kevin Adams' book North Carolina Waterfalls and on his web site. It was referred to as the Waterfall on Tributary of Hensley Branch in the second edition. Looking at the map, there are two streams named Hensley Branch in the vicinity but this doesn't appear to be a tributary of either of them - it appears to be a tributary of Mill Creek. So that could be another name, and I've referred to it as the "Waterfall Below Sugarloaf Mountain" before.
Statistics
Height: About 25 feet
Elevation: 2920 ft
Stream: Tributary of Mill Creek
Landowner: Border of Pisgah National Forest and Private
GPS: 35.996491, -82.627408
Map