Waterfall on Hickory Branch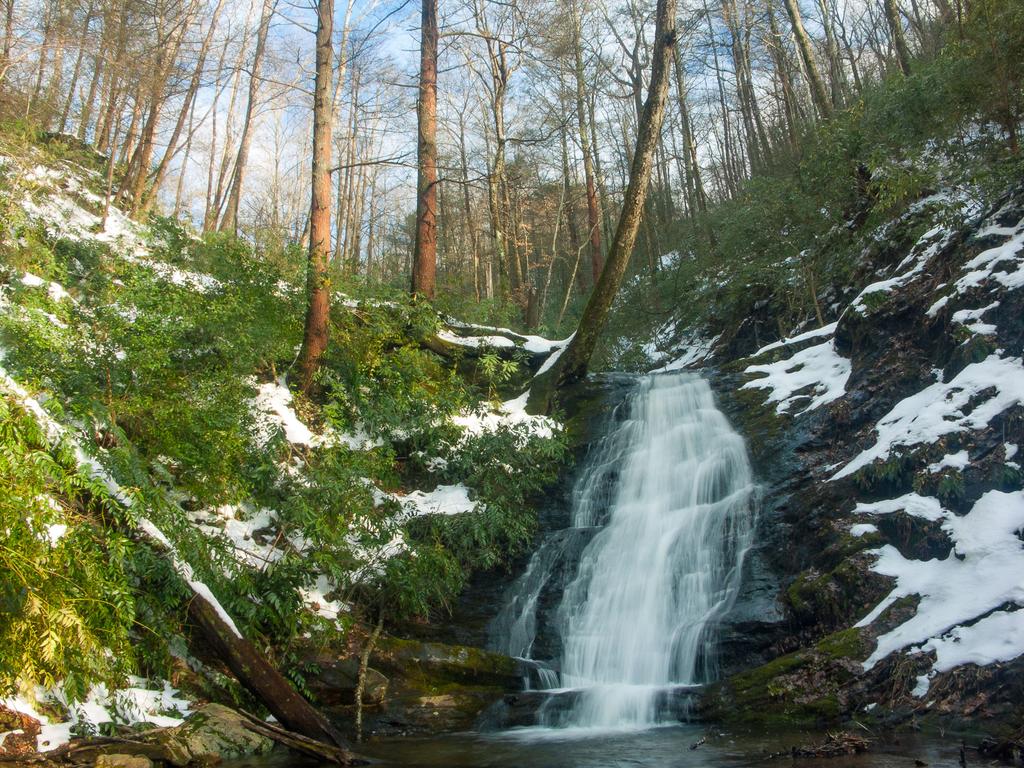 A cascade over curving rock into a small pool. Its left bank is covered with dog hobble and rhododendron, while the right bank is less vegetated.
Statistics
Height: 30 ft
Elevation: 2040 ft
Stream: Hickory Branch
Landowner: Pisgah National Forest
GPS: 35.6936, -82.1884
Map
GPS Directions & Map
From Current Location or address:
Driving Directions
From Asheville, take I-240 East to I-40 East. Go 18.9 miles and take exit 72 for Old Fort (US Hwy. 70). Go 3 miles, passing through downtown Old Fort, to Curtis Creek Road and turn left. Go 5.1 miles to the Curtis Creek Campground. The trailhead parking is on the left just after the bridge over the creek.
There is a gate about 1/4 miles before the main parking area, just as you start entering the campsites. If it is closed, there is a place to park on the left just before the gate. You'll have to hike another 0.3 miles up the road past the gate to the trailhead if it's closed.
Trail Description
The orange-blazed trail starts across the road from the parking area, on the hill behind campsite #16c. Look for the tall brown stake which serves as the trailhead sign. The trail begins by climbing to the top of the ridge. Don't go straight up; turn left to follow an actual trail around a switchback which comes out in the same spot at the top of the ridge.
Descend the other side of the ridge. The trail is pretty steep here too. At the bottom of the descent, cross Hickory Branch. You should be able to rock-hop this one and stay dry. Pick up the trail heading upstream on the right side of the creek. It levels out in a scenic cove. After 0.3 miles, the trail crosses to the left side of the creek. After another 0.2 miles it gets steeper and veers left up a steep grade along a drainage to an old logging road. It levels out again, and you'll see the falls on your right shortly thereafter.
From point on the trail where you can see the falls, there is no good way to get to the base. The bank is too steep and you risk hurting yourself and the ecosystem by descending on the thin soil. The view is better from the trail anyway, but if you must go to the base, head back down the trail to the little drainage and descend to the creek where the bank is not as steep. Then, follow the creek upstream to the falls.