Lower Cascade Falls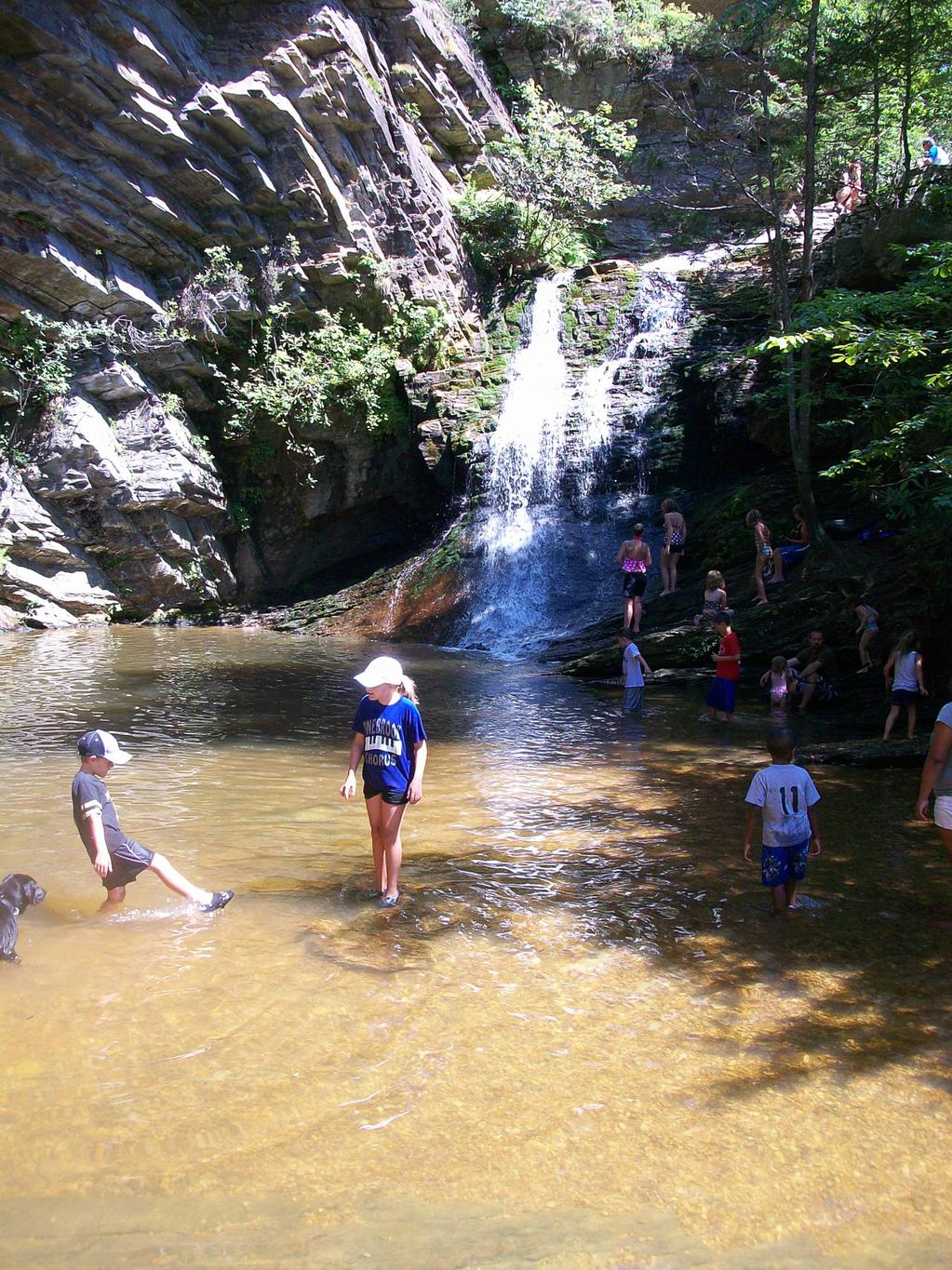 This waterfall slides in from the right, then cascades down a near-vertical layered rock face where the water fans out into a couple of discreet streams before ending in a shallow, but large, plunge pool. This is a very popular spot for wading in the summer. The falls themselves are very nice, but the most distinctive feature of the location may actually be the high, layered, overhanging bluff which looms to the left of the waterfall.
Statistics
Height: 35 ft
Elevation: 950 ft
Stream: Cascade Creek
Landowner: Hanging Rock State Park
GPS: 36.41486, -80.268661
Hike Information
Difficulty: Moderate
Length: 0.4mi
Tread Condition: Some Obstacles
Map
Driving Directions
From Winston-Salem, NC it's about an hour's drive - follow US Hwy. 52 North to exit 114 for NC Hwy. 8 (Germantown Road). Turn left and follow NC Hwy. 8 North for just over 17 miles to NC Hwy. 89. Turn left and follow 89 West for 5.2 miles to Hanging Rock Park Road. Turn left.
From Pilot Mountain, NC it's about a 30 minute drive - take NC Hwy. 268 East for just over 12 miles to NC Hwy. 80 East. Turn right and go just over 4 miles to Hanging Rock Park Road. Turn right.
Once you are on Hanging Rock Park Road, go 1.5 miles and turn right on Moore's Springs Road. Go 0.3 miles and turn left on Hall Rd. Go 0.5 mile; the parking area is on the right and is well signed.
Trail Description
The hike to the falls is 0.4 miles one-way (just under a mile round-trip) and moderate in difficulty. There is only one trail, and it is well-signed, starting at the back of the parking area. It is easy and level at first, going through some young, second-growth forest of mostly pines with a few hardwoods mixed in for good measure. Then, the trail reaches the edge of a little gorge, and drops down into it via a long set of wood structures, stairs, and landing pads. There are some nice observation platforms as you get closer to the falls.
The trail comes out on the rocks below the pool at the falls. Be careful with kids here - there's nothing terribly dangerous, but of course they should be supervised around slick rocks and water. Do NOT attempt to climb to the top of the falls. Hiking back out will be a bit more challenging, but most older kids should be able to do it (and it's short so younger kids could be carried), making it a family-friendly hike.