Glen Falls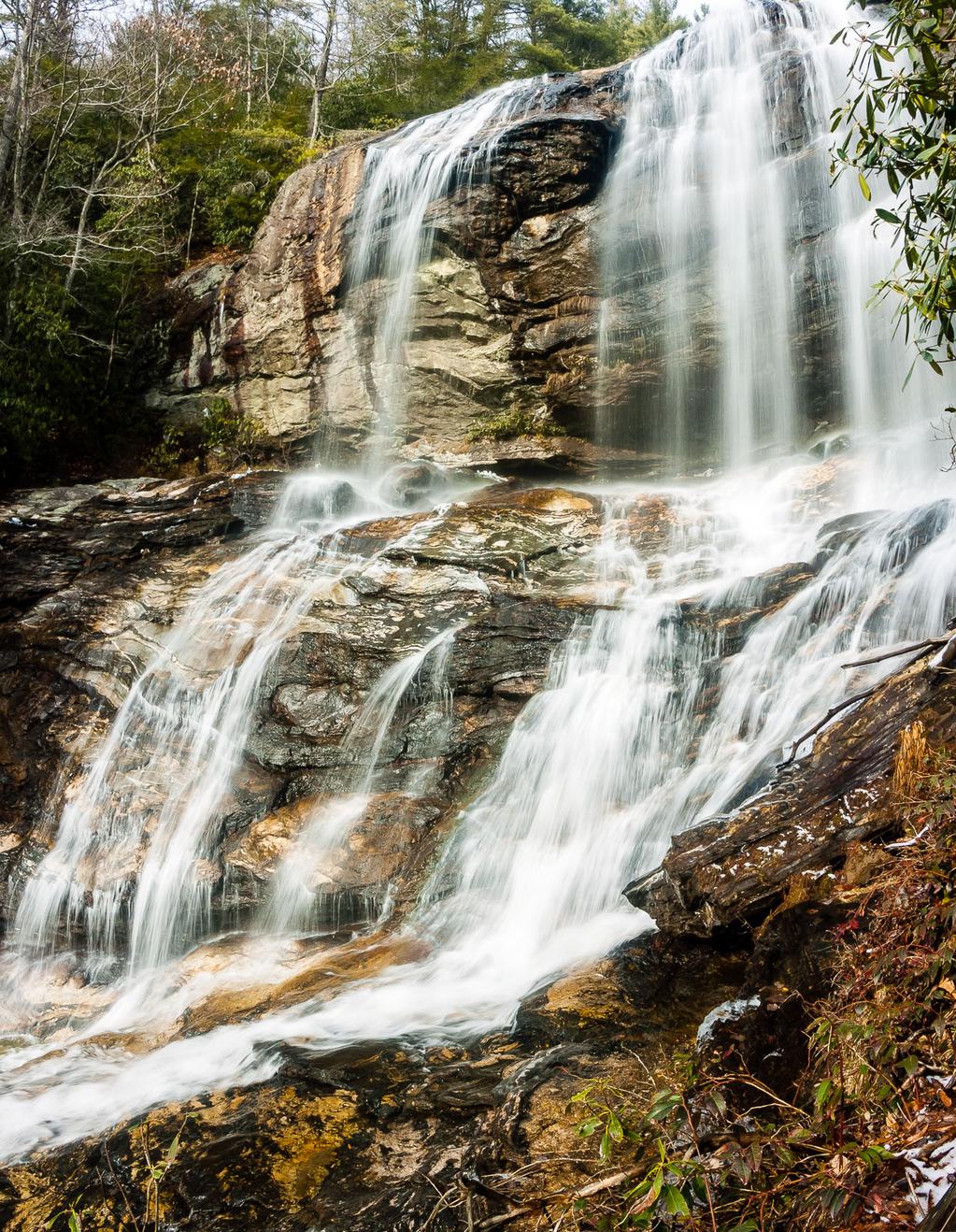 Glen Falls is three tiers of 70, 60, and 15 feet in height (pictured here is the upper tier) for a total of about 145 feet of falling water. Each tier has its own character, but the top two are the only ones you should bother to see - but I recommend those highly. The top tier is a multi-streamed free-fall with some cascades at the bottom. The middle tier is a wide cascade with lots of individual streams and free-falls over neat, banded rock. Both are beautiful and photogenic, as is the view of Blue Valley from the overlook near the top of the falls.
Statistics
Height: 145 ft
Elevation: 3070 ft
Stream: East Fork Overflow Creek
Landowner: Nantahala National Forest
GPS: 35.030863, -83.238794
Hike Information
Difficulty: More Difficult
Length: 1.1mi
Tread Condition: Moderately Rough
Climbing: Climbs Steeply (430 ft)
Type: Out-and-back
Map
GPS Directions & Map
From Current Location or address:
Driving Directions
From downtown Highlands, go West on US Hwy. 64 and take a left on NC Hwy. 106. Turn left on SR 1168 after 1.7 miles (there is a sign for Glen Falls). Immediately bear right onto the gravel road which follows the creek downstream to a dead end at the trailhead parking.
Trail Description
Follow the signed Glen Falls trail for just over 1/4 mile to the upper section of the falls. The trail is downhill and moderately rough, so remember that for the climb back out. A short loop leads to an overlook over the top of the falls; stay behind the railing. Continue downhill on switchbacks another 0.15 mi to the base of the upper tier; continue another 0.1 mi to the base of the second tier. Side paths lead to observation areas at the middle and lower tiers of the falls.