Dill Falls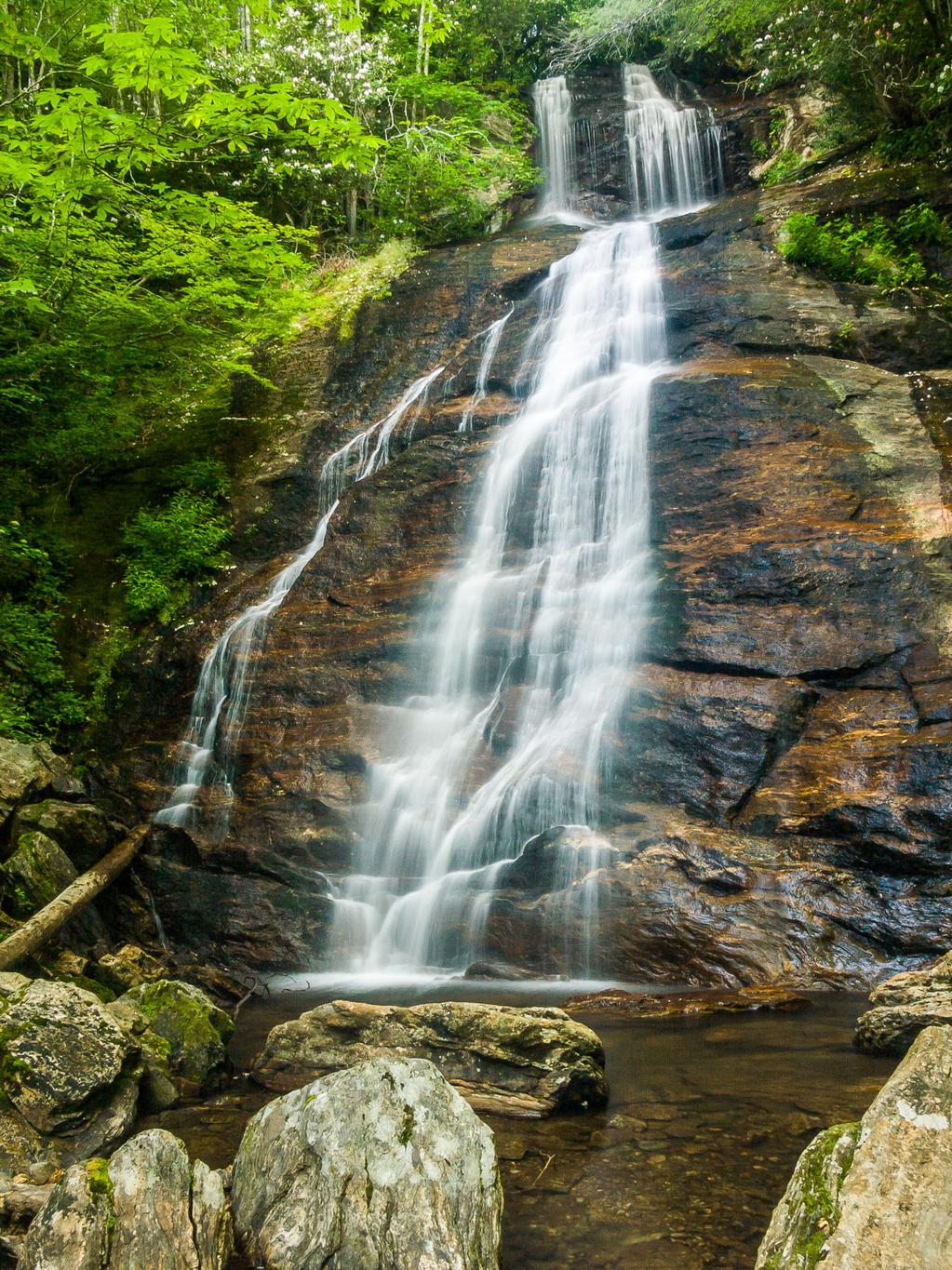 This waterfall looks higher in real life than in most pictures. It's also one of the nicest in the area. It starts as a short free-fall, then comes down a very steep, longer cascade before ending in a little pool at the bottom. The rocks making up the cliff are colorful with red bands alternating with darker ones. Large boulders lie around the pool at the bottom. Rosebay Rhododendron bloom beside the falls in mid July, adding beauty to the overall scene.
Statistics
Height: 50 ft
Elevation: 4020 ft
Stream: Tanasee Creek
Landowner: Nantahala National Forest
GPS: 35.28325, -82.943604
Hike Information
Difficulty: Moderate
Length: 0.6mi
Tread Condition: Some Obstacles
Climbing: Climbs Steeply (120 ft)
Type: Out-and-back
Map
GPS Directions & Map
From Current Location or address:
Driving Directions
From the intersection of NC Hwy. 215 and the Blue Ridge Parkway, go south on NC 215 for 2.6 miles. Turn right on FS 4663 - it's between a house and a trailer and looks like a driveway, but it should be signed. Follow this narrow road for just under 2 miles to FS 4663B on the left (it may be hard to spot as you're going up a steep hill at the junction).
In the past, FS 4663B was too rough to take a passenger vehicle on, but as of July 2009 it was in fine shape. Go just over 1/2 mile to the parking area at the end.
Note: both of these roads have been known to be in bad conditions over the last few years, and sometimes they're closed. You may have to hike a lot further to reach the falls if that's the case when you visit. They're in fine shape for now, but having a high-clearance vehicle might help if they deteriorate once again.
Trail Description
The hike to the falls is moderately difficult due to the incline and a bit of rock scrambling necessary to get right up next to the falls, but don't let that deter you - it's short.
At the parking spot, two old logging roads lead to the right as you came in - one goes uphill and one downhill. Take the one leading downhill. You'll have to walk in the woods around a giant crater that the Forest Service dug to keep vehicles off the old road. Follow this path on a descending grade for just a few yards to a creek crossing below the falls, where it is now plainly visible due to someone cutting out the rhododendron that once lined the creek banks.
You can scramble up the creek right to the base of the falls - but be careful; there are some bigger rocks to climb up right before you get to the falls.